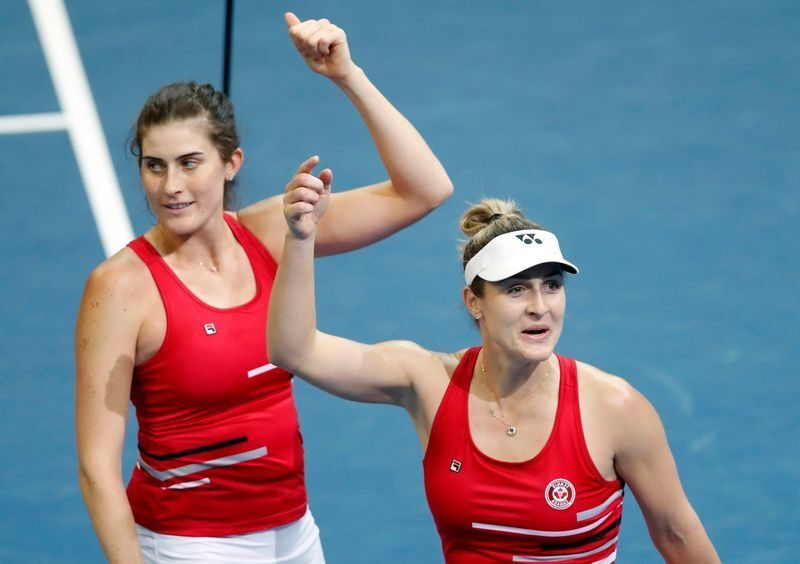 Prague:

Champion France stumbled in the first hurdle as they lost to Canada in their opening tie of the first Cat Jane King Cup final in Prague on Monday.
The 2019 FedCup Champions and the top seeds of its rebranded version will have to beat a strong Russian team on Wednesday to keep their hopes of making it to the playoffs alive.
Belgium, Spain and the Czech Republic started the tournament with victories, taking the lead in the three-member group before the second and final tie.
France's Fiona Ferro was defeated by world number 353 Francois Abanda 6-4, 4-6, 4-6.
Elise Carnet beat Rebecca Marino 6-4, 7-6 (7/5) to level the score, but then lost 3-6, 6-7 (6/8) to Clara Borrell at the hands of Gabriela Dabrowski. Which doubles lost with rubber. Marino
Hungary replaced Canada in the tournament late after Budapest granted Prague the right to host.
"Beating number one is clearly incredible and I think we should be really proud of ourselves," Marino said after the doubles rubber.
"As a team, we came together and fought very hard," he added.
In the second tie of the afternoon, Belgium beat Belarus 2-1 in Group B to win both singles.
Belgium's Great Mann defeated Irina Shemanovic 6-2, 6-2 in the opening round for the first time.
Alice Martinez added another point as she defeated Alexandra Sasnovich 6-2, 4-6, 6-2.
Sasnovich and Vera Lipko then scored a satisfactory point for Belarus as they beat Martinez and Kirsten Flipkins 6-4, 6-3.
"We had a really strong start, Great was doing great and it made it easy for me," Martinez said.
"Today we are happy that we have won both singles so we finally won."
The host Czech Republic, which has won six of the last nine Fed Cup editions, defeated Germany when Markita Vandrosova swept the first Andrea Petkovic 6-1, 6-3.
Presenting the tournament's top-ranked players in the Roller Coaster Rubber, world number nine Angelique Kerber defeated third-ranked Barbora Krajkikova 6-7 (5/7), 6-0, 6-4.
"We both played a really great match at a very high level. It was just one, two points that decided the match," Kerber said after the 136-minute epic.
"Of course it's always an honor to play for Germany so I always try to do my best," he added.
"I gave it 100 percent and I don't think there's anything I should be ashamed of," said Krejkikova, this year's French Open champion.
Thirty-six-year-old Lucie Hradika then replaced Krajkikova with her usual doubles partner, Katrina Senyakova, and the Czech pair defeated Anna-Lena Freedom and Jule Nemeier 6-4, 6-7 in the decisive doubles rubber. 7) Succeeded. , 10/8.
Due to the lack of Garbine Muguroza and Paula Badusa, it was difficult for Spain to face Slovakia, but they eventually won 2-1 thanks to Sara Soribs Tormo.
In the first round, Slovakia's Victoria Kazmova defeated Carla Suarez Navarro, who is wrapping up her career in Prague, 6-2, 3-6, 6-3.
Soribs Tormo equalized after beating Anna Carolina Schmidlova 6-3, 3-6, 6-2, and together with Suarez Navarro, she defeated Kazemova 4-6, 6-2 with Tereza Mehalikova in doubles. , Left behind 10/7.
"I think what we've done today is a wonderful day, a wonderful feeling. I'm so proud of what we did," said Soribs Tormo.