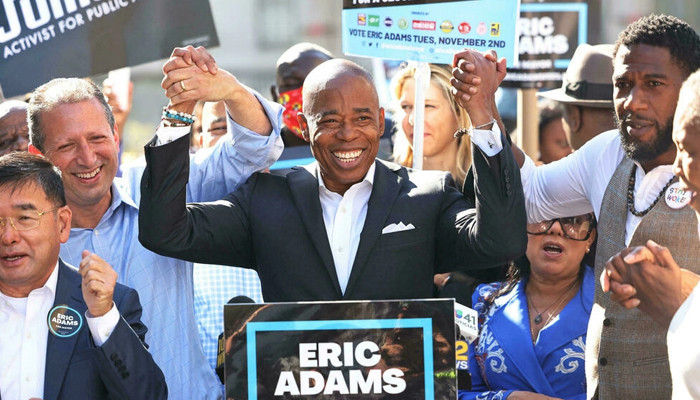 New York: Eric Adams, a former police officer who fought against racism within the police, was elected the next mayor of New York on Tuesday, becoming only the second African-American to lead the largest city in the United States.
He will take office in January, tasked with rebuilding the metropolis after an epidemic that has killed more than 34,000 residents and shut down millions of businesses.
Adams' victory is a significant increase in poverty since its inception, including working for a gang as a teenager before being beaten by police officers to join the NYPD and reform it from within. Stimulated the determination of
"Tonight I have fulfilled my dream and I am going to remove with all my heart the obstacles that are holding you back from fulfilling your dream," the 61-year-old centrist Democrat won in Brooklyn. Welcoming his supporters on the occasion of the party.
Adams was a strong favorite to defeat Republican rival and volunteer crime fighter Curtis Silva in the Liberal Voting stronghold, where the registered Democrats outscored the Republicans by seven to one.
American TV networks, including NBC and CBS, announced the race shortly after the pool closed at 9 p.m.
Preliminary unofficial results released by the New York City Board of Elections suggest that Adams will receive more than 70 percent of the vote, and Silva, a 67-year-old right-wing radio host and founder of the Guardian Angels Crime Prevention Group, Accepted immediately.
Becoming the mayor of New York is often considered the most difficult task in the United States after the president.
Adams, who credits Wagner for changing his 2016 diabetes diagnosis, will succeed the unpopular progressive Bill de Blasio, whose second and final term ends on December 31.
As mayor of more than eight million people, he will oversee America's largest municipal budget and its largest police force and public school system.
Moderates vowed to crack down on rising violent crime during epidemics by defeating progressive rivals in the June Democratic primary.
He also promised to tackle wealth inequality and reform the education system.
Adams will also have to deal with severe housing shortages, New York's cracking infrastructure and the effects of more severe weather events on the infamous Rickers Island prison.
"If you don't educate, you will be imprisoned and we do not want to imprison our youth," he said in his victory speech.
The most difficult balance of this process will be to try to reform the methods of policing, while keeping together a heavy coalition force that feels degraded in the de Blasio era.
Adams has opposed defending the police and has not called for higher taxes for wealthy residents, which he opposes to the American left.
Police reform
Born in 1960, Adams was raised in a large working-class neighborhood in Queens. His mother was a cleaner, and his father was a butcher.
When he was 15, he was repeatedly kicked in the back by two NYPD officers when he was arrested on criminal eviction charges.
It sparked his determination to join the NYPD and he joined the force in the mid-1980s, served 22 years and rose to become captain.
In 1995, he co-founded "100 Blacks in Law Enforcement Who Care", an advocacy group designed to fight racism in policing and still exists today.
In 2006, Adams retired and won the New York State Senate election. He served until 2013, when he was elected president of the Brooklyn Borough, providing a springboard for his mayoral ambitions.
Adams will become the 110th mayor of New York. Its first black mayor, David Dunkinson, served from 1990 to 1993 – about 30 years ago.
"I'm overwhelmed. It's over," said Adams voter Jacques Rivers, a black man.