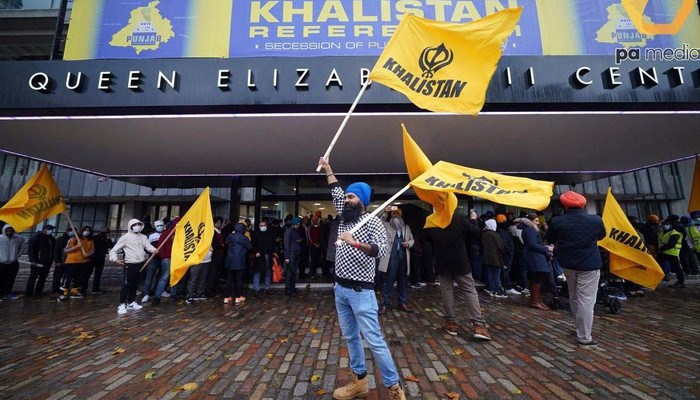 LONDON: India and Britain's National Security Adviser (NSA) will meet later this month to discuss "aggressive" Khalistan leaders and activists working with Britain, Indian Foreign Secretary Harsh Vardhan Sharangala said on Tuesday. Talk about
The Indian foreign secretary made the unusual statement in Glasgow on Sunday, two days after more than 30,000 Sikhs took part in a Sikh referendum organized by Sikhs for Justice (SFJ) in London.
Indian Prime Minister Narendra Modi told British Prime Minister Boris Johnson that his country wanted to talk about the issue of Khalistan workers who work from the UK and run Khalistan referendum campaigns across the UK.
The meeting between Modi and his British counterpart ended with India's concerns over Kahalistan's activities in the UK, prioritizing India's economic interests.
The issues of Khalistan referendum, Khalistan campaign and extradition were raised by Modi during his brief meeting with Johnson and the two leaders agreed to ask their NSAs to meet in London to address the concerns of aggressive Khalistani activists.
"Prime Minister Johnson, I agree that some of these groups need to be reined in and steps must be taken to see how much action is taken to deal with the recent events that are somehow democratic." "They are not constitutional, they should be or they can be used," Sharangla told the media in Glasgow on the first day of COP26.
The Indian Foreign Secretary was asked to explain the talks between the two Prime Ministers and the Khalistan referendum, in which a large number of Sikhs of all ages from across the UK arrived in London to take part in the referendum. Absolutely outside voting.
The turnout in the Khalistan referendum and the enthusiastic participation of Sikhs have made India so anxious that the Indian Foreign Secretary devoted a large part of his press briefing to the Sikhs for Justice's Khalistan referendum campaign, which was created by the movement. Tried to reduce the tension.
Sharangala said pro-Khalistan groups had "no legitimate right" to speak out on Khalistan, but acknowledging their activities "caused a certain level of imbalance and concern in both our countries".
"During the meeting of the NSAs, the two sides will take a detailed look at all the issues that are important to the consular and security and other aspects of our relationship," he said.
The Indian foreign secretary said the talks between Modi and Johnson were brief but included the need to curb extremist activities by anti-terrorism and pro-Khalistan groups.
He claimed that Prime Minister Johnson felt that some of these Sikh groups needed to be curbed and that steps would have to be taken to see how much attention could be paid to activities that were illegal and unconstitutional. There has been no independent confirmation that Prime Minister Boris Johnson has made such a comment.
India has said that Sikhs for Justice is a terrorist organization and has registered more than 30 sedition cases against SFJ General Counsel Gurpat Singh Pinn. India has also confiscated his ancestral property, designating him a "terrorist" but Pinnu and other Sikh leaders have continued their activities.
The SFJ says it is an international human rights advocacy group leading a campaign for the right of Sikhs to self-determination, one of the fundamental rights guaranteed by the United Nations Charter. International Covenant on Civil and Political Rights (ICCPR). This right is holding an unofficial Khalistan referendum on the question of autonomy and Punjab's secession from India.
Pinn has said that the Khalistan referendum has embarrassed India when Prime Minister Narendra Modi is being waved for COP26 by PM Boris.