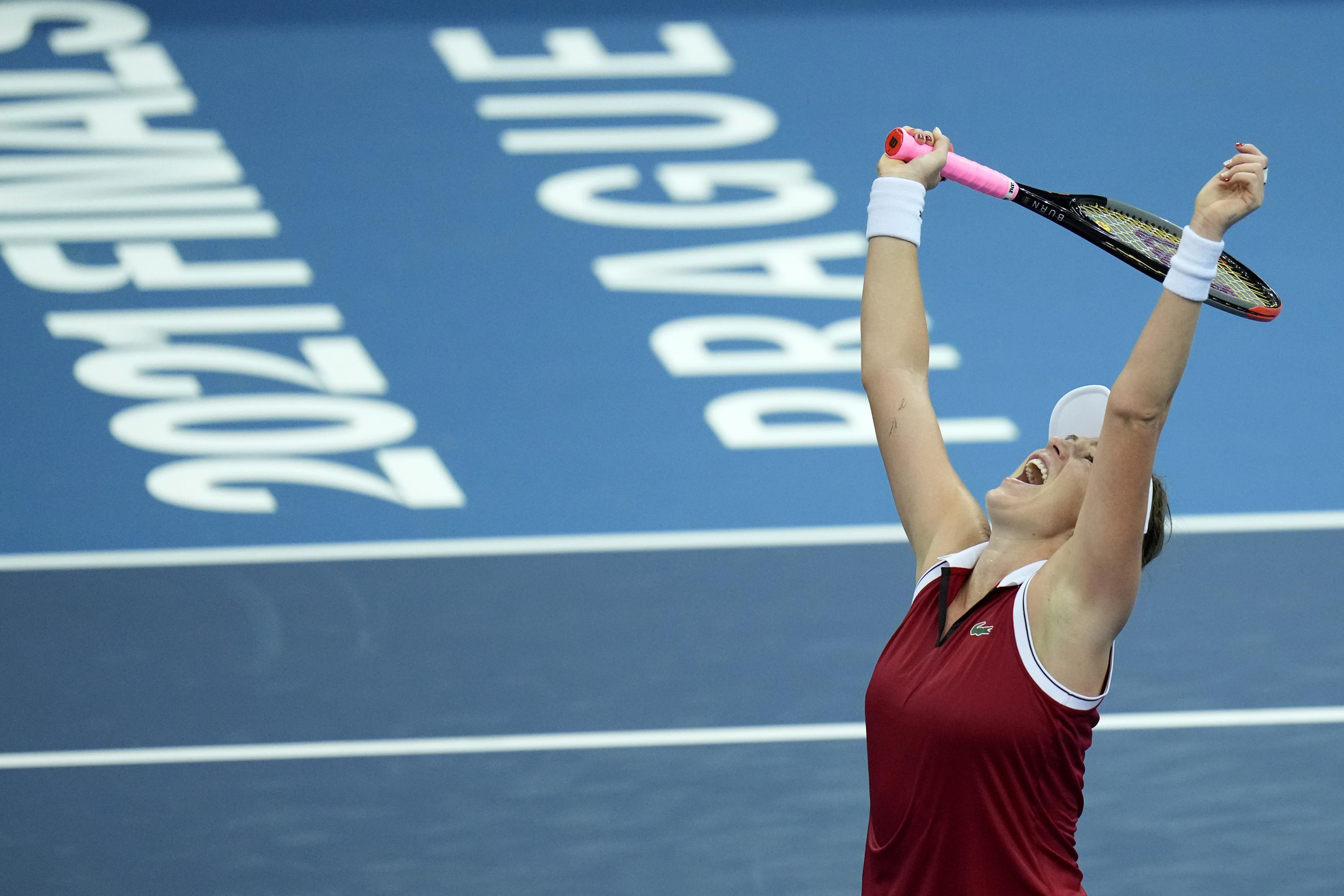 Prague:

France's reign as women's tennis world champion ended at the hands of Russia on Wednesday, which will play the semi-final of the Billy Jean King Cup against the United States.
Russia beat France 2-1 and the United States beat Spain 2-1 to advance to the semifinals of the rebranded version of the Fed Cup.
Clara Borrell defeated Ekaterina Alexandrova 3-6, 6-4, 6-3 in the first rubber of the day to put Russia back in the game.
But Anastasia Pavlyuchenkova defeated Alize Cornet 5-7, 6-4, 6-2 in the second match to take the decisive point that Russia needed to win Group A and send home the 2019 Fed Cup champions France. ۔
Russia beat Canada 3-0 on Tuesday, while France lost 2-1 to the same opponent on Monday, meaning Russia needed one point to advance.
But the Russians eventually beat the holders as Veronica Kadermitova and Lyudmila Samsonova defeated Borrell and Carnet 6-2, 6-1 in the final doubles rubber.
Pavlochenkova and Carnett fought hard for each ball, more patient and accurate Pavlochenkova teased Carnet after his shots.
Pavlyuchenkova threw a volley into the net as Carnett broke his serve to win the first set, but he equalized before breaking Carnett's serve in the first game of the main set three marathon and then traveled to win. What
"I'm very happy and very proud of myself because I think it was an incredible match," Pavlochenkova said after a bit of celebration on the court.
"It was great tennis but more importantly I think it was an amazing fighting spirit on both sides, we were like two lions," he added.
France got off to a strong start as 77th-ranked Borrell defeated world number 32 Alexandrova in a nerve-wracking contest.
Alexandrova seemed more convincing at first, but Borrell slowly began to control the game, while Alexandrova ended his trouble with two double faults, stacking a bunch of mistakes.
"It's very special, it was my first single match for my country and I'm very happy to have won," Borrell said.
In the evening Group C tie, Sylvain Stephens defeated Noria Perez Diaz of Spain 6-4, 6-4 and Daniel Collins defeated Sarah Soribs Tormo 6-1, 6-0 in just 59 minutes under the supervision of Billy Jane King. Under Himself
That was enough for the US team to advance after losing 2-1 to Slovakia on Tuesday, after Slovakia lost 2-1 to Spain.
If Stephens needed three breaks to win the first set and four breaks to take the second, there was never any doubt that the offensive Collins would take the second rubber through the storm.
"It was probably as good as it could get for me today. I went out there and worked out my strategy and carried it out perfectly," Collins said.
"You don't have many of those days in the year so I think you'll be happy when you have them. I was really on the roll."
Spain earned a consolation point as Elevena Bolsova and Rebecca Masarova defeated Caroline Dolhide and Coco Wendiuge 6-3, 6-4 in doubles rubber.
In the remaining games of the group stage, Australia will play Belarus and the Czech Republic will play Switzerland on Thursday.
The semi-finals of the four group winners are scheduled for Friday and the final will be on Saturday.