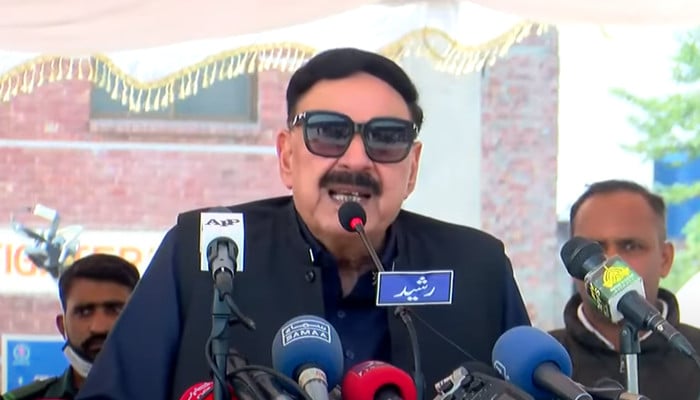 LAHORE: Interior Minister Sheikh Rashid on Thursday said that when Saad Rizvi, head of the banned Tehreek-e-Libek Pakistan (TLP), spoke to him, he stood by the demand for deportation of the French ambassador.
Speaking to reporters after attending the Rescue 1122 function here today, Rashid said that he had assured Rizvi that the issue of eviction of the ambassador would be taken up in Parliament.
"In this regard, I have signed one [agreement]"I stand by him," the minister said, adding that he was unaware of any talks taking place in his absence.
Unlike Rashid, Mufti Muneeb-ur-Rehman claimed earlier this week that the banned TLP never wanted the government to deport the French ambassador, nor did it want the country's embassy closed because he had leaked the news. It was disputed that these were important demands of the group. .
Addressing a press conference in Karachi, Mufti Muneeb had said, "The ministers lied. […] Those who negotiated with the TLP lied. [the group] The expulsion of the French ambassador, the closure of the embassy and the severance of ties with the European Union. "
Revoking the Prohibited Status of TLP
Meanwhile, in a significant development yesterday, the Punjab Home Department sent a summary to Punjab Chief Minister Usman Bazdar to end the banned TLP status, which was initially approved.
The Home Department said in a statement that after approval by the Chief Minister and the provincial cabinet, the federal government would be transferred to end the TLP's banned status.
The Punjab government has also decided to remove the names of at least 90 workers of the banned organization from the Fourth Schedule – in compliance with a secret agreement between the government and the banned TLP.
Hundreds of supporters were released.
On November 2, the government began implementing its agreement with the TLP, which reportedly released more than 800 arrested party supporters across Punjab.
The government on Sunday signed an agreement with the banned organization to release members of the organization who have no formal criminal charges against them. A general amnesty will also be given to the party's top leader Saad Rizvi.