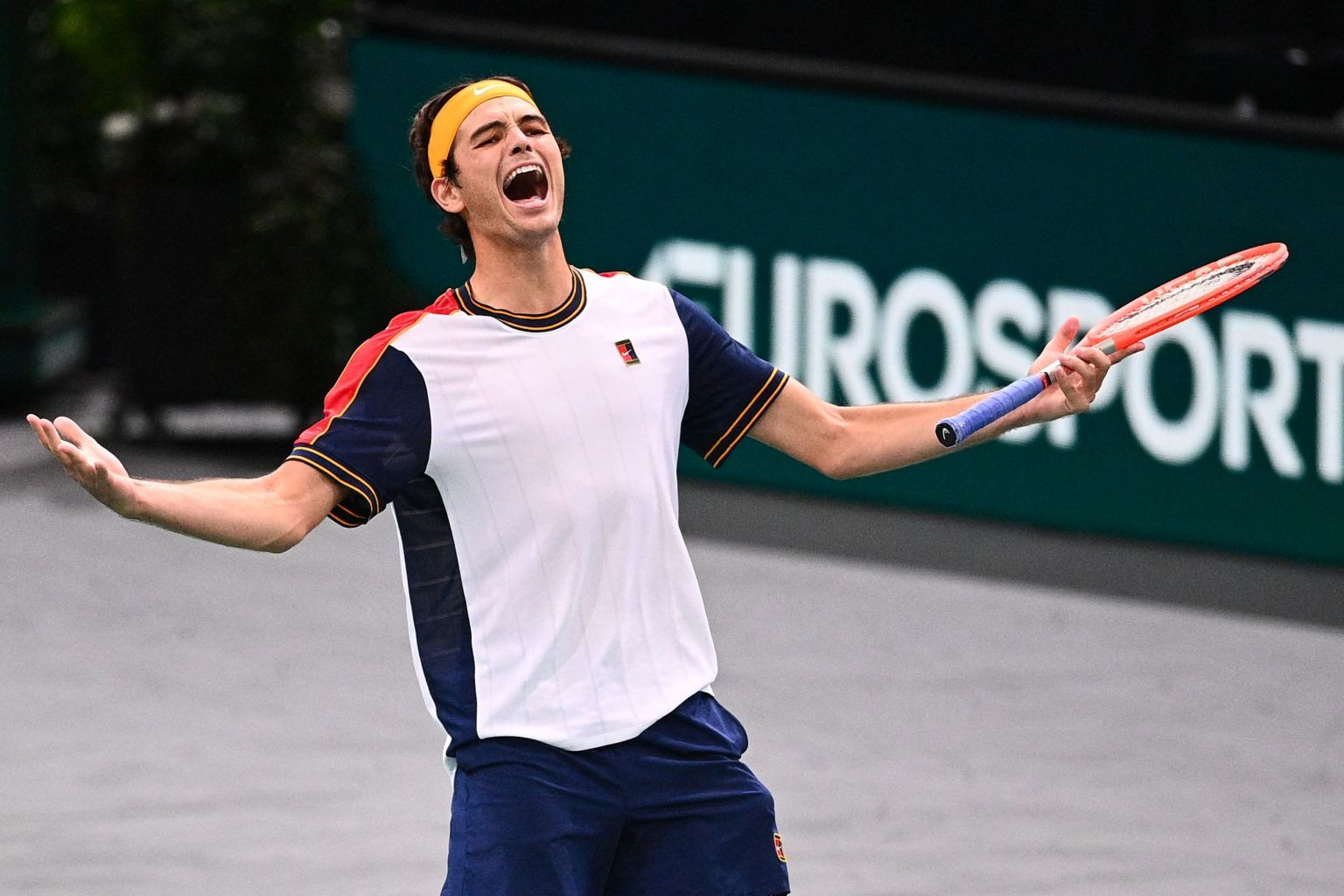 Paris:

Taylor Fritz left the French Open in a wheelchair this year, but her return to Paris is proving to be a much more enjoyable experience as she defeated Cameron Nouri 6-3, 7-6 (7/3) on Thursday. Kar had reached the quarterfinals of the Paris Masters.
Reward for evicting 14-year-old American 14ThSeeded Briton is up against world number one Novak Djokovic, who defeated Fritz by five sets at this year's Australian Open.
Djokovic will have mixed feelings about how he got into the last eight of the Masters when he arrived in Paris saying he needed match practice after a seven-week break.
However, his third-round opponent, Gael Monfils of France, withdrew before his match due to a back injury in Wednesday's three-set win over compatriot Adrian Minarino.
World number two Daniel Medvedev and world number four Alexander Zverev had to move from all stops to reach the last eight.
Medvedev defeated Sebastian Corda 4-6, 6-1, 6-3 in the set-down, while the man he defeated in last year's final defeated Zverev 7-6 (7/4) to Gregor Dimitrov. It took 2 hours and 46 minutes to beat 6-6. 7 (3/7), 6-3.
"I'm really happy with myself, I managed to stay calm," US Open champion Medvedev said as he went down a seat.
"In the end it was physically difficult for both of us. It's good that I guess I played three sets."
Medvedev's next match will be against French qualifier Gaston Hugo, who defeated Carlos Alcaraz of Spain 6-4, 7-5.
Zverev showed great enthusiasm to slip two match points in the second set and then the Olympic champion saved six break points in the decisive set.
"It was an incredible match," Zverev said.
"Gregor is playing very high level tennis and I had to leave everything there."
Fritz is in full form as the season draws to a close, with the big server reaching the Indian Wells semi-final and St. Petersburg final last Sunday.
Fritz, who tore up his meniscus at the last point of his defeat at the French Open in June at the hands of Dominique Coffer, says his hot run depends on his mentality.
"Definitely just my aggressive mindset, how I'm dealing with the situation," he said.
"I'm not scared and tight in critical situations. My forehead has really become a weapon I can count on."
As for the challenge he faces in the form of Djokovic, Fritz says it could be his moment.
"I mean, it's going to be a difficult phase," said the American, who lost to Djokovic on clay at the French Open in Rome.
"You know, for the third time this year. I feel like the first two matches of this year have been very close.
"Obviously I'm playing my best tennis right now, so I think if there was a time, I could really push it now."
Caspar Road finished seventh in the eight-member ATP Finals – the first Norwegian to qualify – when they beat American qualifier Marcos Geron 6-2, 6-1 to advance to the quarterfinals with Xavier.
"It's been an incredible year that will be the best end of the season," said Raud, 22, who has won five titles this year, like Xavier.
If Hubert Harkaz beats unseeded Australian James Dickworth in the quarter-finals on Friday, he could take last place for Turin.
If Fritz goes further, he will not face Kopfer again in Paris as Germany's good run in the Masters ended on Thursday.
Koepfer survived until the lucky loser's term – when Jensen Brooksby left the field on Monday – defeating former world number one Andy Murray and then ninth seed Felix Oger-Eliasim.
After winning the first set against seventh seed Harkaz of Poland, the left-hander looked as if he would keep up his run.
However, Wimbledon semi-finalist Harkaz defeated his 27-year-old opponent 4-6, 7-5, 6-2.