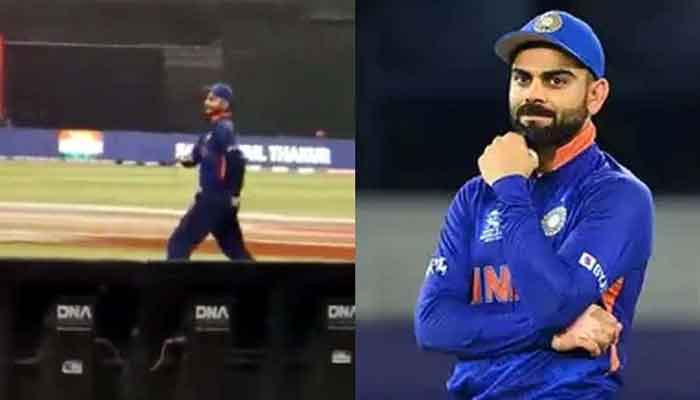 India captain Virat Kohli was relieved when his team posted a huge total on the board and managed to get the Afghan openers out early in the innings.
Kohli was so happy that he did a dance step on the ground, which has gone viral on the internet.
In the video, Kohli can be seen walking towards the boundary line while the popular Bollywood song "My Name Is Writing" is playing through the speakers.
Almost suddenly, the Indian captain pointed to the crowd and danced.
The crowd roared in response, glad to see Kohli doing this.
This is not the first time that the Indian captain's dance moves have gone viral on the internet. Earlier in the 2016 T20 World Cup, Kohli also performed his dance moves to the song "Galan Gadiyan".
India kept their hopes of qualifying for the semi-finals alive by defeating Afghanistan by 66 runs in their T20 World Cup match.
Opening batsman Rohit Sharma scored 74 to give Afghanistan their first victory in the Twenty20 World Cup by defeating Afghanistan by 66 runs on Wednesday as Virat Kohli's team escaped a shock early exit.
The Indian batsmen finally fired with Sharma and KL Rahul, who scored 69, scoring 140 for the opening wicket to take India to 210 for two in their much-needed Super 12 match in Abu Dhabi.
The highest total of the tournament proved to be too much for Afghanistan which scored 144-7 in 20 overs.
They are still looking for semi-finals with New Zealand and India. Pakistan has already made it to the last four of the group.
India, who came on the field as hot favorites but suffered two consecutive defeats, needed to rely on others to win their remaining three games and advance to the semi-finals.