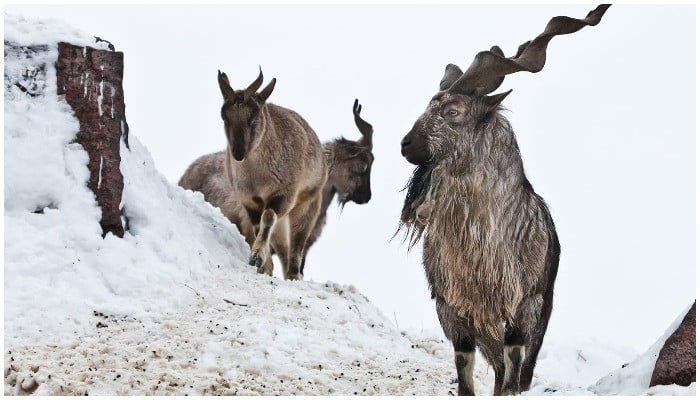 PESHAWAR: Pakistan earned a record 575,500 from four permits auctioned for the Markhor Trophy in Chitral on Friday at the Khyber Pakhtunkhwa Game Reserve, the wildlife department said.
The highest bid at the 2021-2022 auction was 160 160,250, the highest ever bid for Pakistan's national animal trophy hunting, according to the Wildlife Department.
The second highest bid was $ 155,100, followed by تیس 135,150 for the third permit and $ 125,100 for the fourth.
Hunting permits are issued annually for Kaigah Conservancy in Gilgit-Baltistan, Toshi Conservancy District Chitral, Garhit Conservancy District Chitral, and Kohistan District.
The positive results of trophy hunting have come to light as the population of Markhor in the country has increased from 3,500-4,000 in 2001 to 3,500-4,000.
Under the trophy hunting program, local communities receive 80% of the license fee and the rest is kept by the government. The amount varies as licenses are issued through the bidding process.
In trophy hunting, only older male markhors are shot and can be identified by their horns, gait and physique. The program is now hailed as a major victory in conserving biodiversity in Pakistan.
The incentives generated by the trophy hunting program have introduced new ethical standards among the communities concerned that now protect their wild game breeds as economic assets.
It is worth mentioning here that every year when hunters post pictures with the hunted markhors during the expedition, they immediately express their grief and anger on social media. But in reality, this trophy helps a lot to save a rare and endangered species from possible extinction.
According to the Ministry of Climate Change, the trophy hunting program has imposed a complete ban on killing markhor without a license. The maximum sentence for Markhor poaching is three years in prison.