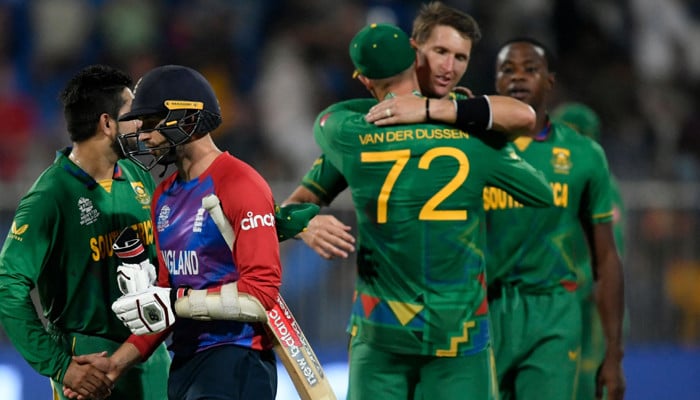 Sharjah: South Africa beat England by 10 runs but failed to qualify for the semi-finals of the Twenty20 World Cup on Saturday as Rossi van der Dawson scored an unbeaten 94 runs.
Group 1 winners England and Australia, who beat the West Indies in the first match of the day, advanced to the final four from a pool of six teams.
Van de Dawson hit six sixes off his 60 balls as South Africa scored 189 for two, but England needed to be limited to 131 or less to bowl Australia out at the net run rate.
England, who topped the group with 109 runs, finished 179-8 in the last over after a hat trick by Kagiso Rabada. It was England's first defeat in five matches.
Van der Dawson and Eden Markram, who scored 52 off 25 balls, put on an unbeaten 103-run stand for the third wicket to give their side a challenging total.
England chose fielding first and Moin Ali made an early stroke when he bowled Reza Hendricks for two.
Quentin de Kock and Van der Dawson resumed the innings with 71 runs for the second wicket.
Adil Rashid broke the stand when he sent De Cock back from his leg spin for 34 runs.
But Van der Dawson remained steadfast and completed his half-century off 37 balls with the right dose of caution and aggression.
He then joined Markram in attacking the bowlers. The pair attacked Chris Vokes in their fourth over – the 16th of the innings, and added 21 runs with three sixes between them.
Markram completed his fifty off 24 balls with a six off Chris Jordan. He hit two fours and four sixes.
In reply, England got off to a good start in the first four overs with the boundaries of Jason Roy and Jose Butler.
But while running with Butler, Roy suffered a calf injury and had to help off the field.
South Africa took advantage of the opportunity and in the next over, Enrich Nortje sent Butler back for 26 runs. Tabriz Shamsi then LBWed Johnny Barstow for a run.
Moin, who scored 37 off 27 balls, and Dawood Milan returned with a 51-run partnership but Shamsi took a break once again.
Moin hit a powerful six to Shamsi but got out on the next ball with another big effort which went straight into the hands of David Miller instead.
Milan continued the attack with Liam Livingston, who hit three sixes in a row to Rabada to keep the chase on track despite losing his partner in the next over.
But Livingstone fell for 28 and the South African bowlers took over. Rabada returned Chris Vokes, captain Avon Morgan and Chris Jordan for the third hat-trick of the tournament.