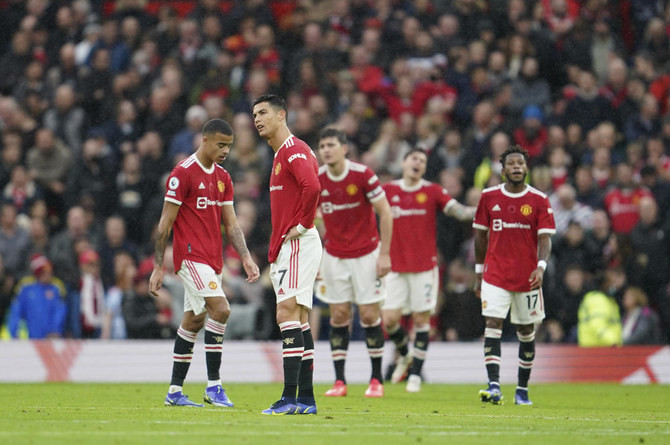 Manchester:

Manchester United suffered another domestic humiliation as Manchester City's 2-0 win at Old Trafford on Saturday raised further questions about the future of Ole Gunnar Solskir.
Eric Bailey's own goal at half-time stroke and Bernardo Silva's goal on the scoreboard were the difference between the two sides.
But it did little justice in the gap between the teams as only David de Gea's brilliant saves prevented United from a 5-0 defeat to Liverpool less than two weeks ago.
Solskir bought some time with a 3-0 win over Tottenham last weekend.
But United have now won just one of their last six Premier League games and could end the day at the top of the table with 11 points if Chelsea beat Burnley at Stamford Bridge.
Switching to Solscar's back five was a treat for Spurs, but it was due to Raphael Varane's return from injury.
Without the French World Cup winner, who sustained a hamstring injury against Atlanta on Wednesday, Norway's decision to maintain the same system immediately backfired.
Bailey was included in the Premier League for the first time this season and it took City just seven minutes to get off to a great start when they cut Joao Cancello's cross into their own goal.
United have won just five of Cristiano Ronaldo's 13 appearances since the five-time Ballon d'Or winner returned to the club.
If things had been different in the last days of August, Ronaldo could have lined up for City as he chased the 36-year-old to fill the void left by Sergio Aguero.
Ronaldo's goal-scoring hero has kept United alive in the Champions League, but has only netted once in the last six Premier League games.
Kiss
The Portuguese had a terrific bailout in the first 45 minutes before the Red Devils when their volley was saved by Ederson and Mason failed to convert the Greenwood rebound into an empty net.
But it was DJ who was the busiest keeper ever.
Before defending Cancello, Kevin de Bruyne, and denying his second goal from Victor Lindelov's boot, Spinard miraculously stretched himself to block Gabriel Jesus.
However, for City's second, De Gea also made a mistake when Silva spread his leg over Cancello's cross and United Stop threw the ball into their own net.
Bose greeted Half Time City as the traveling City Sport happily chanted "Ole's at the wheel" to make fun of the United boss.
Solskir responded by introducing former City winger Jadon Sancho, who has failed to retain a place in the United team in recent weeks despite spending £ 73 million ($ 98 million) to sign from Borussia Dortmund in July.
Sancho put up a bit of speed in the United attack, but the home side still barely managed to keep up the pressure as City's passing triangle left Manchester chasing the shadows in the rain.
Phil Foden hit the post and Jesus appealed for a waiver of the fine because City could easily have won by a much wider margin.
A 2-0 home defeat to Crystal Palace last weekend left Pep Guardiola's men with a narrow margin for a mistake in the title race.
City, however, have often defended their best performances for the big chance this season as they now have a possible nine to seven points in away games against Chelsea, Liverpool and United.