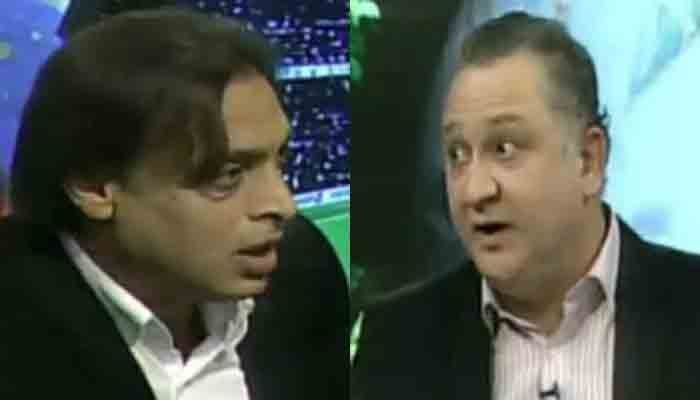 ISLAMABAD: Reacting to PTV Sports anchor Dr Noman Niaz's allegations and apology for a recent verbal altercation during a live TV show, legendary former Pakistan fast bowler Shoaib Akhtar said on Friday that he had I apologized to him that night, but not now.
In a statement, Shoaib Akhtar said, "Now Dr Noman Niaz has to apologize to PTV, not me." Is damaged
I left this decision to Allah
Talking about the quarrel between him and Dr. Noman Niaz, he said, "I got up in a very dignified manner and left the show. I left the decision to Allah."
"I could fight, and do a lot on national TV. Look at my body," he said. "People who know me know it's not in my nature. [to walk away from a confrontation]"
The former fast bowler said that he has decided not to react to Dr Noman Niaz's angry words. [Shoaib Akhtar's] Akhtar's mother said her mother was now very old and could not stand another dispute over her son.
"Nowadays, whenever someone says something to me, I keep quiet and go home," he revealed.
I apologized to Niaz for saving the PTV Sports brand.
Akhtar said that he has apologized to Dr Noman Niaz for wanting to save the integrity of PTV Sports brand and channel. "Sir Vivian Richards was on the show, billions of eyelids and many of my fans [were watching]"They said.
Shoaib Akhtar said that he had forgiven Dr. Noman Niaz when he left the show, adding that he had left the bitterness there.
"I want to please God, I don't want to please people, I have as many lovers as I can, I can say a lot about them." [Dr Nauman Niaz] But I won't, "he added.
Responding to Dr Noman Niaz's allegations that Akhtar had violated his contract by appearing on other TV channels, the former fast bowler said he had been appearing on Geo News for the past nine years.
"If I've been looking at Geo for the last nine years, could it have happened without it? [Dr Nauman Niaz's] Knowledge? Or the knowledge of the managing director? Think for yourself Even if my contract didn't say so, could I have appeared on other channels all year without their knowledge? "He asked.
'I have made myself clear'
Akhtar said he apologized for attending PTV Sports for a week due to illness. "I had a chest infection and my mother was sick. It's a fact," he shared. "I have made myself clear. I do not want to go into these details [again and again]"
Returning to the details of the night when the clash took place, the former fast bowler said that his sister's text message signaled him to get up and leave the show.
"My sister texted me and said, 'Things got out of hand. Shoaib, you have fallen below your dignity. You have repeatedly forgiven him while he is not apologizing to you. I think so.' I want you to get up and leave, "he revealed.
Akhtar thanked the fans for their support and love and said that they always play "from the heart". "Whenever you go down, you can always watch my videos and see how the man runs, how his hair flies and how the stumps break," he said.
"But if Noman says he signs my paycheck, I will ask him to do the same for my last paycheck," he quipped.