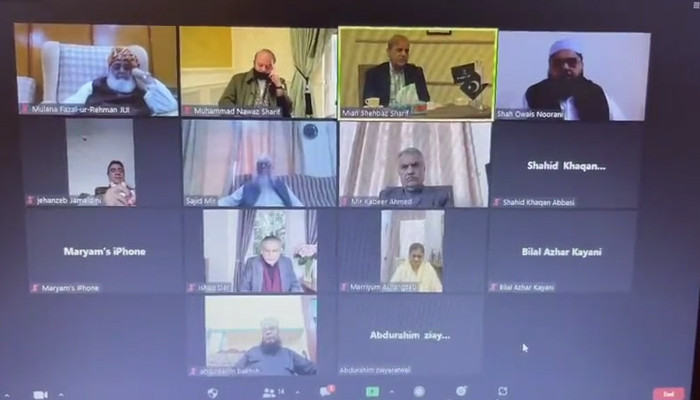 The Pakistan Democratic Movement (PDM) on Saturday decided that there would be several anti-inflation protests across the country, culminating in a long march towards Islamabad.
Sources told media that the opposition alliance held a virtual meeting in which it was decided to hold protests on November 13 in Karachi, November 17 in Quetta and November 20 in Peshawar..
Shaking hands with PPP on cards
The PDM has decided to convene another meeting of senior coalition officials on November 11 – shortly after the joint parliamentary session on November 10.
The government has called a meeting on November 10 to approve 18 bills.
The bill deals with giving overseas Pakistanis the right to vote, e-voting and the use of electronic voting machines (EVMs).
Sources said that earlier this year, the PPP had split from the opposition coalition, but now, the PDM has joined hands with the party to prevent the government from passing electoral reform bills in parliament. Is considering
The participants also rejected the recently issued National Accountability (Third Amendment) Ordinance 2021 and vowed to ensure full attendance at the joint sitting of Parliament to prevent the government from approving its required bills.
Other matters
PML-N President and Leader of the Opposition in the National Assembly Shahbaz Sharif briefed the meeting on his talks with the opposition leaders.
The PDM leadership also discussed the rise in petrol prices and rising inflation, and ways to strengthen the PDM's nationwide protests.
PML-N leader Nawaz Sharif, PML-N president Shahbaz Sharif, PML-N vice president Maryam Nawaz, former prime minister Shahid Khaqan Abbasi, Central Jamiat Ahle Hadith (MJAH) president Senator Prof. Sajid Mir and Pakhtunkhwa Milli Awami Party chief Mahmood Abbasi attended. Khan Achakzai joined the meeting via video link.