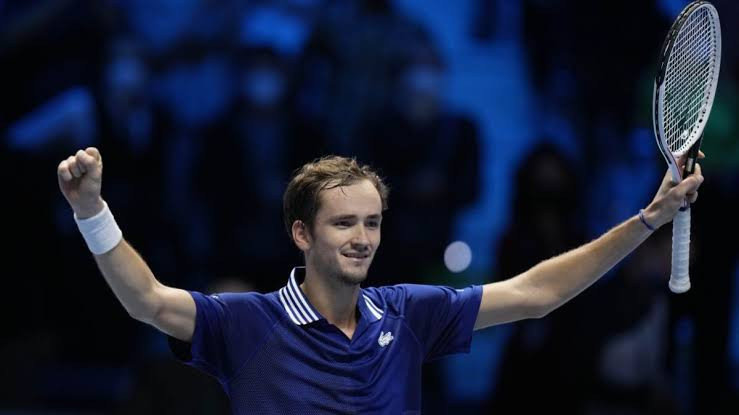 Turin:

Defending ATP Finals champion Daniel Medvedev maintained his best start to the tournament this year but struggled against Alexander Zverev, finally beating his Red Group 6-3 6-7 (3) on Tuesday. 7-6 (6).
Medvedev has extended his winning streak to seven in the tournament and is already guaranteed a place in the semi-finals after defeating Polish debutant Hubert Harkaz in his opening match.
Zverev's early rival Matteo Berrettini of Italy retired with an injury and withdrew from the tournament on Tuesday.
Berrettini was replaced by fellow Italian Jannick Sinner, who delighted the home crowd by defeating Harkaz of Poland 6-2 6-2 in the evening session.
Russian world number two Medvedev, who won his first Grand Slam at the US Open this year, took a 3-0 lead in the first set and looked set to win his fifth consecutive victory over Zverev.
However, the German gained some confidence to regroup in Turin, knocked down 13 aces and took a second set tie-break. In the decisive match, the pair could not separate and could not break the servo and both of them did heavy hitting.
In the decisive tiebreak, Xavier saved two match points but only hit the third in the backhand net to give Medvedev a victory after two hours and 35 minutes.
"Definitely one of the most memorable matches," Medvedev said.
"When you win 8-6 in a tiebreak in the third. Not much to say about the match, just amazing."
Zweirev, 24, is battling Harkaz of Poland in his last round robin match, seeking a place in the last four. The 20-year-old Suner could reach the semi-finals even after the devastating Harkaz.
"I knew I was going to play around 5pm," Suner said.
"I was ready to go on the court. It's an incredible feeling to play with thousands of people here in Italy who are cheering for you. I will enjoy this moment. I played well and warmed up. I felt good. It was an incredible match today. "
The Green Group resumes on Wednesday, with Novak Djokovic facing Andrei Rubello and Stefanos Setsipas on Caspar Road.
Barretini announced that he was withdrawing from the event in a post on Instagram after suffering a stomach injury.
"My final ended here, I was devastated, I never thought I would have to give up the most important tennis event in Italy," he wrote.
"The truth is, I felt as much as I wanted to play in front of you again, and I decided that because my body is not ready to face the challenges ahead."
Suner said he felt bad for Beretini.
"Matthew has been unlucky many times in his career and I wish him well," Suner said.
"I'm going to play for him in this tournament because he deserves to be here."