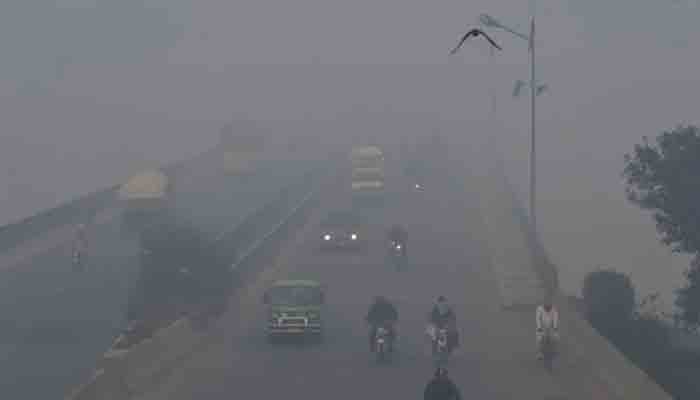 LAHORE: The Lahore High Court on Thursday directed the Punjab government to announce a 50 per cent attendance policy for private offices amid deteriorating smog situation in several cities.
The order came during a hearing on smog in the High Court, during which the Judicial Water and Environment Commission (JWEC) proposed closing schools, but the court did not agree.
On the other hand, the Lahore High Court ordered the creation of a smog cell in the Pakistan Disaster Management Authority (PDMA).
The High Court also directed the authorities to issue a traffic plan to deal with the situation and directed them to set up a traffic emergency call line.
Justice Shahid Karim said that any citizen can complain of traffic jam on the call line.
However, Punjab Environment Minister Muhammad Rizwan said the government was not ordering a lockdown as the situation had not reached a "dangerous" level.
He said that air pollution was also due to dust in the ongoing development works in the city and it was ordered to send rain showers to control it.
The Minister said that air pollution data is released according to a formula and the information released 24 hours ago is incorrect.
He said that there are only two monitors in Lahore and the rest are out of order.
The 'worst' air quality
On Thursday, Lahore once again topped the world in the Air Quality and Pollution Classification Index.
Which should be seen as a worrying sign for Pakistanis, Karachi is also ranked eighth in the same global index.
According to the Air Quality Index, the particle level in Lahore reached 367 while in Karachi it reached 163.
New Delhi, the capital of India, ranks second on the list with a score of 259 for its specific substance. China's Wuhan is in third place with a score of 198 degrees.
The Air Quality Index states that particle levels between 151-200 are considered harmful to health, while pollution levels between 201-300 are considered extremely harmful to health.
Pollution levels above 301 are recognized as "hazardous pollution".