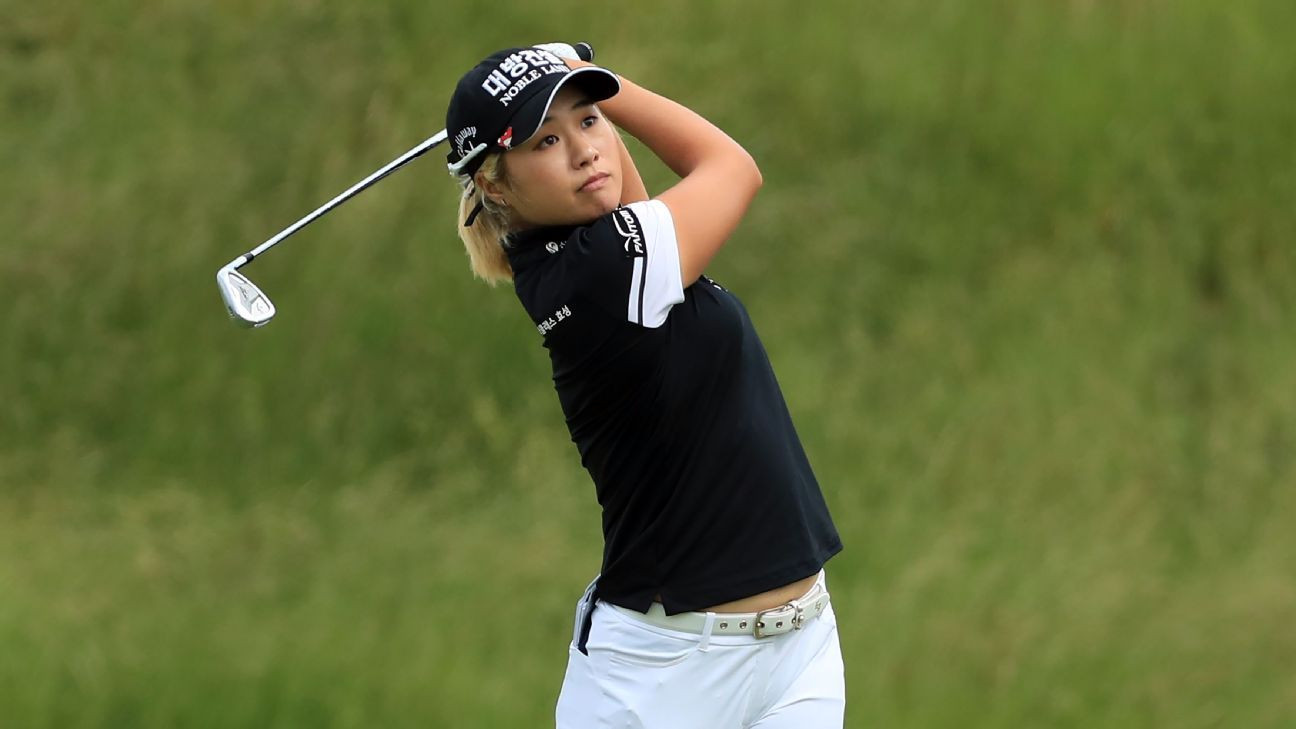 Miami:

Lee 6 Jeong Avon fired eight birdies in eight under par 64s to take a one-shot lead in the USLPGA Tour Championship at the rain-soaked Taborun Golf Club in Florida on Thursday.
Lee 6, the 2019 US Women's Open champion, hit 14 of the 14 fairways and 18 of the 18 greens in the regulation to help himself achieve his goal of winning the 2021 title in the final event of the season. To be brought into position.
"I had a good time today," he said. "My goal was to get out of the quagmire, so I got it.
"My goal is to win once this year, unfortunately there is only one tournament left. I am going to do my best."
Lee 6 – who has added digits to his name to distinguish him from other players on the Korean Tour with the same name – said that swing changes were being worked out for the 2021 campaign, but now that he More comfortable then she can attack. correction.
This was especially useful on Thursday in Naples, Florida on a rain-soaked and acceptable Tibrone course.
"It was raining so the vegetables were soft and we could clean the ball in the fairway," said Lee 6, who was paralyzed in front of four players.
Boogie Free 65 of American Mina Harrigi was highlighted by a Chip in Eagle on the 17th.
He was accompanied by compatriot Jennifer Capucho, Celine Butter of France and Kim Si-young of South Korea.
Butter had seven birdies without a boogie, while Kim had nine birdies and two boogies, and Capchu caught seven birdies to join the seven-under group.
Kim, who rolled into a 25-foot birdie pit on the 72nd hole to win the title at Tibron in 2019, was also in attack mode on a rain-soaked course designed for scoring.
"I had a lot of birdie opportunities today," he said. "I expected a lot of rain today but it didn't happen. We started raining from hole 16. But the course was a bit wet, so we attacked the pin when it was available."
World number one Nellie Corda led a group of eight players in six under par 66s.
South Korea's KoJin-Young, who has moved up the top rankings with Korda this season as he has won eight titles between the two, made three of his five birdies on the way to the under-69. Made on three back nine.
Corda arrived in Naples on Sunday after winning a roller coaster at the Pelican Championships. Now the 23-year-old is looking for consecutive victories this season after winning the Major LPGA Classic and the Women's PGA Championship for consecutive weeks.
Korda and Ko played with former world number one Lydia Ko of New Zealand in the marquee grouping.
"I saw a video of Lid saying she was doing third whaling, but I felt like I was doing third whaling because he was speaking Korean," Corda said. "It was fun. I like playing with them and they play well, so it was good."
Corda said the round itself was "very good." I hit most of the vegetables and I really didn't do anything wrong. The two loose shots I fired at them had a lot of curves and two three pits.
"But I've definitely made a good part of my pitches there as well."