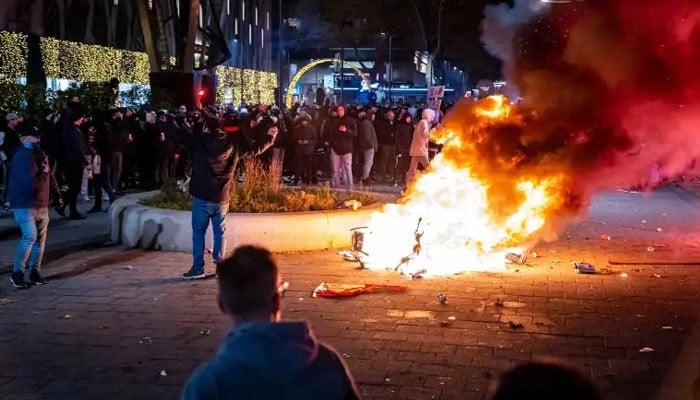 Breda: A day after 51 people were arrested in a "violent orgy" in Rotterdam, Dutch Corona virus protesters staged fresh rallies on Saturday in which two people were shot and released from hospital.
The Netherlands returned to Western Europe for the first partial winter lockdown last Saturday with a three-week moratorium, and now plans to ban non-vaccinated people from entering certain areas. Is.
Hundreds of protesters marched on the latest rally in Amsterdam on Saturday, and a similar number marched from the southern city of Breda.
It happened after the Rotterdam riots, where police said they fired both warning and target shots and used water cannons.
Rotterdam police said in a tweet: "Fifty-one people were arrested during a riot on Colsingle (Street) in Rotterdam on Friday evening and night. About half of them were minors."
He said the riots came from different parts of the country. Police are searching for more suspects.
"Two rioters were injured when they were shot. They are still in the hospital," police said, adding that the Dutch National Criminal Investigation Department would investigate whether the injuries were caused by police bullets. "
Police said one policeman was taken to hospital with injuries to his legs, while several other officers were injured or their hearing was damaged by large-scale fireworks fired by rioters.
Police had earlier said they fired several warning shots, but "at one point the situation became so dangerous that officers felt compelled to shoot at targets."
He dismissed rumors on social media that someone had died during the violence in Rotterdam.
The city's mayor, Ahmed Abu Talib, condemned the "violence orgy" and added: "The police have finally felt the need to pull out their weapons in self-defense."
– 'The whole hell is broken' –
Despite the violence the day before, about 300 protesters marched on Saturday from the southern town of Breda, near the Belgian border, with slogans such as "No Lockdown".
Organizers said they opposed Prime Minister Mark Rutte's plan to ban vaccines from bars and restaurants.
A group that announced the protest in Amsterdam on Saturday, United V Stand Europe, said on Facebook that it had canceled the rally because "last night, all hell broke out in Rotterdam".
But according to pictures on Dutch media and social media, hundreds of flag-waving protesters were still gathered in the main Dam Square, which was spotted by police vans.
The Dutch government has condemned the violence in Rotterdam.
"Last night's riots and extreme violence against police, riot police and firefighters in Rotterdam are horrific," Security Minister Fred Gerperhaus said Saturday.
"The police and the public prosecutor's office are doing their best to track down, prosecute and punish the rioters."