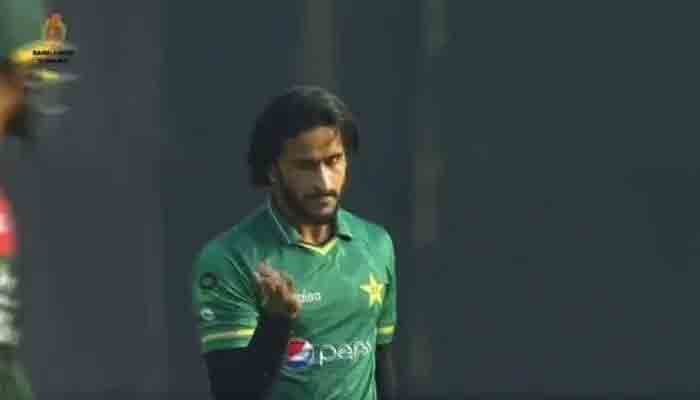 Pakistani fast bowler Hassan Ali has been accused by the International Cricket Council (ICC) of violating Level 1 of the ICC Code of Conduct during the first T20 against Bangladesh.
"Hassan has violated Article 2.5 of the ICC Code of Conduct for players and their support staff," the governing body of cricket said in a statement on Saturday.
Article "relates to the use of language, gestures or gestures that may provoke a humiliating or aggressive response to the dismissal of a batsman during an international match."
This is the first crime against Hassan Ali in 24 months. The ICC also revealed that a demerit point has been added to his profile.
The incident took place during Bangladesh's innings when Hassan Ali's ball was caught by batsman Noorul Hasan in the 17th over. The right-arm fast bowler sent the Bangladeshi batsman into a tailspin.
On the other hand, Bangladesh cricket team was fined 20% of match fee for maintaining slow over rate in the match. Considering the time allowances, the Bangladesh cricket team was ordered to be one over short of the target.
Hassan and Bangladesh captain Mahmudullah pleaded guilty and accepted the sanctions proposed by Nyamur Rashid of the ICC International Panel of Match Referees and the ICC Cricket Operations Department Verified No formal hearing was required.
Field umpires Sharafdula Ibn Shahid and Masood-ur-Rehman, third umpire Ghazi Sohail and fourth official Tanveer Ahmed had leveled charges against both the parties.
Level 1 violations are subject to a minimum official reprimand, a maximum of 50% of the player's match fee and one or two demerit points.