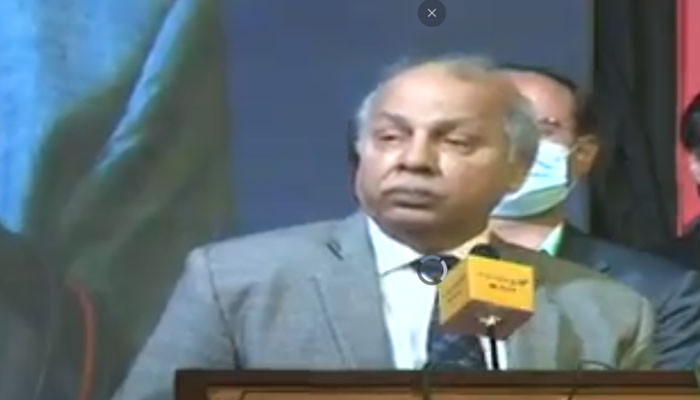 LAHORE: Chief Justice of Pakistan Gulzar Ahmed on Saturday clarified that allegations of being under the influence of powerful circles on the judiciary are not right with him.
In a scathing speech in memory of Asma Jahangir, a well-known human rights activist and lawyer in Lahore, she emphasized that her court had never accepted pressure from anyone and would never do so.
Gulzar seemed to lose patience over the persistent allegations of bias against the judiciary.
Responding to a speech by veteran lawyer Ali Ahmed Kurd, in which Kurd accused the courts of not working independently, the chief justice responded: "I never [taken dictation from] No institution and never came under any pressure.
The country's top judge said, "No one ever told me what decision I needed to make and no one dared to dictate to me."
"No one interfered in my work. I made my decisions according to my understanding and the constitution and the law."
Apparently referring to the recent controversy between former Chief Justice Saqib Nisar and former Gilgit-Baltistan Chief Justice Rana Shamim, Chief Justice Gulzar Ahmed said, "I have not taken anyone's dictation till date and my fellow judges have done the same." Let's go No one can say that I have taken dictation.
The seemingly angry judge insisted that the courts were acting in accordance with the law and that the judges of the Supreme Court were trying to provide justice to the people.
"When decisions are made, some people say they are right and some people say they are wrong. These are people's opinions and they have the right to act on them. Everyone has their own opinion and point of view. , And it must be respected. "
"This is the beauty of the judiciary and democracy and we will abide by it," he said. No one can dare to stop us.
However, the country's top judge stressed that dissent does not allow any party to accuse the courts of pressure.
"Our court is free to make decisions and it does whatever it wants freely. Our court hears every party and holds them accountable," he added.
"Tell us what decision was made at someone's request – it's not, so stop creating these suspicions in people," he warned.
"Don't mislead people, don't spread chaos, don't shake people's confidence. [state's] Institutions "He continued his sharp rebuke.
Pakistan is ruled by law, not by any individual. We will continue to work the way we have been working.
We will support and promote the constitution, law and democracy in the country and we will not accept any undemocratic setup. We will leave [if forced to do so] And we've done that before.
"That should be enough for today," he concluded.