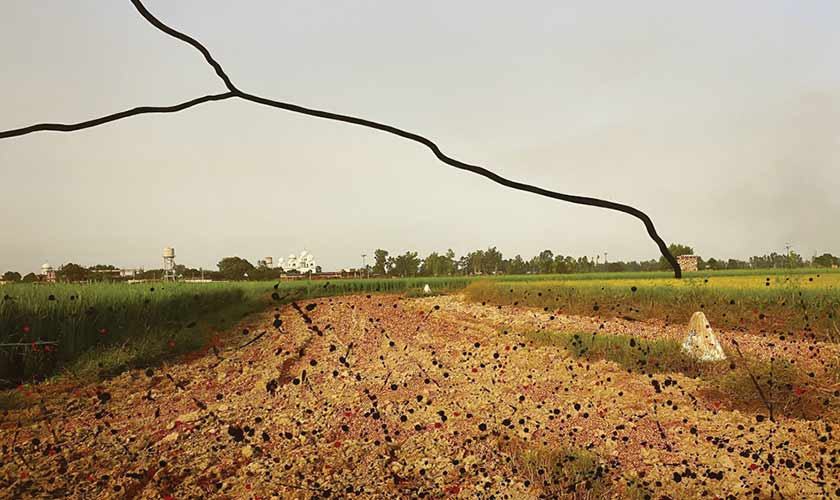 P.Aul Cezanne described a contemporary painter, Claude Monet, as: "Monet is just an eye – but my God, what an eye!" The eyes of the artists are fixed not on their heads but on their hands as well as on their trade tools. That is, Brush, paint, paper, canvas, stone, wood, hammer, chisel, plaster, camera, video, and sound equipment, etc. Eyes and hands and material meet in two places: inside an artist. Brain), and its physical and solid environment. Swedish Nobel laureate Thomas Transtrرmer's verse "Two truths": "Communicate with one another. One comes from within, the other from outside / and where they meet we have the opportunity to see ourselves."
The boundary between these two sites: inside and out determines the value of a creative individual. Originality, innovation, perfection, pleasure and consistency reside in this neutral land. Artists often manage, measure and map the geography of this unknown, New Mainland. In addition to this meeting / melting point, there are other integrations / boundaries: between species, style, thought, perspective and position; And between identities, races, beliefs, languages, social classes, genders, sexual preferences, political affiliations; And, between countries (invisible lines, often difficult to cross).
Maria Waseem and Waseem Ahmed, passionate travelers, cross many boundaries of their training and pictorial expression. Maria Wasim photographed lands that are undiscovered, trampled and unsafe. Wasim Ahmed crosses the tradition of Indian miniature painting. Both photographers have collaborated (before that) explodeMaria Waseem's portrait, shortlisted for the Independent Asian Art Prize, Hong Kong, and most recently exhibited at the Sanat Initiative, Karachi (November 16-25) in a number of Till Death Do You Spart works.
The work that takes place between painting and miniature painting, despite the different creative methods, reveals some connection and contradiction. Not only are the two types different in technique, method and content. They also vary in time. Photography represents the age of modernity, as the method of mechanically photographing was invented in 1839. While small paintings belong to the past, especially the Mughal period (the empire was founded in 1526). Therefore, the integration of the two techniques of presenting reality is a means of bringing two different methods of photography to a level. In such a scheme, both the completion and delivery of the essence of the pictorial exercise. There are different ways to enter a circle, such as a multilingual language.
His contribution to the integration of different parts of the visual arts is reflected in the imagery and content of his works. Maria Wasim photographed places with beautiful landscapes, lush green plains, clear blue skies, some ancient ruins, abandoned structures, religious buildings, and other text-opening images. They represent a big, bitter and bloody division. Social, cultural and political divisions of India and Pakistan. The two countries are close but far apart in some respects. Maria Wasim would like to comment on the invisible line that governs the citizens of both the states.
This partition has been rearranged and rearranged into a picture of Maria's mustard field with a transparent curtain at the top, further separated by a line of red paint applied by Wasim. Is. In the second picture of the border of East and West Punjab in Padhana village near Lahore, two countries, one soil, language, culture, the same scene of air is shown. Again, a snapshot of the Neelum River, which serves as the border between India and Pakistan-administered Kashmir, has a similar meaning. In addition to exposing divisions, these works are reminiscent of a political divide between human beings that is about to change the earth.
The differences are not limited to comparisons between the two states. They can also be identified within the country. Pakistan, for example, has been a multi-ethnic and multi-religious society. Yet we see the denial of history, the distortion of the past, and the destruction of things of common ancestry. Maria Wasim's journey of documenting ancient and desolate Hindu buildings, capturing surviving statues in a temple, photographing dilapidated frescoes from Mughal monuments, is a way of reiterating that we They are not what we have become: one is the animosity of one community and the other is the enmity of the closed community.
One can erase words and extinguish sounds, but one cannot destroy brick and stone monuments – at least not so easily. Maria Wasim makes us feel that we are the inheritors of diversity in all walks of life. Its sensitive presentation of the statues and interiors of Hindu temples, pre-partition views Mansions, And the home of a homeless family confirms our authentic past, which has been regularly vandalized, tampered with and altered. Wasim Ahmed, in part of his collaboration, points to this behavior, for example by drawing a cannon near the niche of a Hindu temple, by putting red bulbs on the walls of other structures and in many places by red. By adding lines of paint. Worship and abandoned houses.
Through their work together, the two artists address a cultural past that includes a universal environment. In the photographs of Maria Waseem's Sheikhupura Fort and Noor Jahan's tomb, history is found to be distorted with time. I'm helpful.
The works of Maria Waseem and Waseem Ahmed are more documented than past structures or current scenarios. They are provided with a formal element that leaves the background information behind. Maria Waseem's choice of picture frames, theme preference, light and dark, color distribution confirms the stunning aesthetic quality of these visuals. A dark, broken floor above a deep place in a Sikh, the line separating the shadows on the temple statue PalaceWall with handprints (maybe ستی smears), in their sensitivity to light and darkness, and express the unique and creative perspective of the creator of strong and extraordinary compositions. In return, Wasim Ahmed revisits history and our perception of ourselves. The use of cannons, leaves, flowers, splatters, lines, lines, cracks in photographs to indicate distortion of recorded history.
The collaboration of Maria Wasim and Wasim Ahmed in these extraordinary and interesting works invites our past and present. Fear and forgetfulness Political contradictions and collective folly
The two have communicated in such a harmonious way that it is difficult to distinguish the visual of photography from the level of painting, which reminds me of a piece of music in which a singer begins with it. Is. App With flute performances. The sound and sound of the flute go hand in hand until one can distinguish or differentiate the human voice from the sound of the instrument. They both deal with their confidence as they choose to embark on their play activities.
This collaboration is also a meeting place, high, charming, intelligent and charming – between two people, two pictorial practices, and two versions of our caste – two geographies of a common heritage.
---
The author is an art critic based in Lahore.