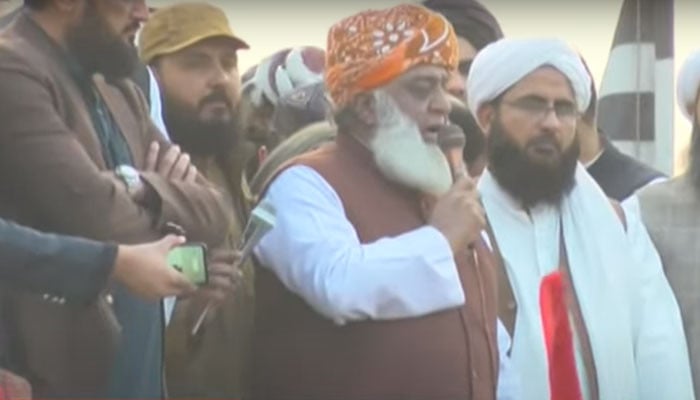 PESHAWAR: The Pakistan Democratic Movement (PDM) will continue to fight till the government sinks, Maulana Fazlur Rehman, head of the opposition alliance, said on Saturday.
Addressing a rally in Peshawar along with other PDM leaders, he said that when the PDM reached Islamabad, Prime Minister Imran Khan would not get a chance to escape.
Without saying when the coalition would march on the capital, Fazal said: "When we reach Islamabad, we will close the roads, not the government."
The Peshawar rally was part of the PDM's series of protests, which included demonstrations in Karachi and Quetta earlier this month. The opposition alliance will now move on to Lahore and then to Islamabad – but the dates are yet to be announced.
The PDM chief said the current setup had "damaged the country's Islamic identity".
He claimed that the opposition had received "threatening phone calls" before the joint sitting of parliament, demanding that the vote be passed in favor of the government.
Fazal said the opposition coalition had not called for local elections, but for immediate general elections – which are actually scheduled for 2023.
The PDM chief, referring to the 2018 general elections, said the people's "stolen" votes should be returned to them, accusing the government of "once again rigging the next election". ۔
Opposition parties have stated they will not run in the by-elections, but will not allow the government to "rig" the next election. There are also important bills to give residents the right to vote. Pakistanis
The joint opposition has warned that it will approach the Supreme Court against legislation in parliament, asking the government to sit at the negotiating table instead.
'Government will now rig the next general election'
For his part, PML-N leader and former prime minister Shahid Khaqan Abbasi said the current government was "not representative of the people".
The former prime minister said that the "events that led to the rigging of the 2018 elections" were slowly coming to light, as he reminded the people that former Gilgit-Baltistan Chief Justice Rana Shamim Chief Justice Saqib Nisar was accused. They are playing a role in rigging the elections.
Abbasi said the government would now "rig" the next general election, just as it had "rigged" the Daska by-election. He further said that legislation in the parliament would not solve the problems of the country.
The former prime minister said that when the rulers are "unaware of the plight of the people, then they are incapable of governing" and that they should step down.
He reiterated that the government had passed a law in this week's joint parliamentary session giving Indian spy Kulbhushan Jadhav an NRO (exemption under the National Reconciliation Ordinance) which allowed him to review and Gives the right to review. Of justice.
He further said that Pakistan could not develop unless the country was run in accordance with the constitution.