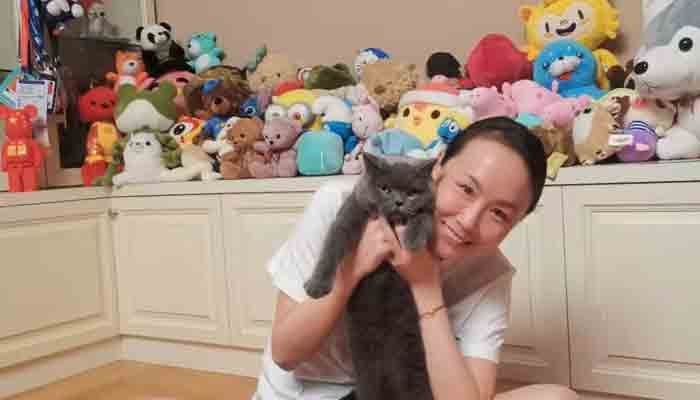 Amid suspicions about the whereabouts of a senior Chinese official following allegations of sexual harassment, photos of tennis star Peng Shuai surfaced online showing her having a good time at home.
Peng Shuai went missing last month after allegations on Chinese social media site Weibo that she was sexually abused by former Chinese Vice Premier Zhang Gaoli during a long-term relationship.
Claims were quickly cleared from platforms such as Twitter and have not been seen since.
According to Shen Shiwei, a Chinese journalist working for state media, the latest photos posted on her WeChat moments show the sports star having a good time with her pets.
Shen Shiwei said on Twitter, "Peng Shuai's WeChat Moments just posted three latest photos and said 'Happy Weekend'.
Ho Zhijin, outspoken editor of the Communist Party-owned Global Times, re-shared the tweet, saying: She lived in her own house and did not want to be disturbed. She will soon appear in public and take part in some activities.
The United States and the United Nations on Friday demanded proof of Peng Shui's whereabouts and well-being amid growing concerns for the tennis star.
White House Press Secretary Jane Sackie said President Joe Biden's administration wanted China to provide "independent, credible evidence" about Peng's whereabouts and expressed "deep concern" about the former world top-ranked doubles player. Expressed.
The United Nations has called for a full and transparent investigation into Peng's allegations against the Communist Party.
Tennis stars, sports organizations, governments and human rights defenders have also spoken out for Peng, 35, and demanded information.
The head of the Women's Tennis Association (WTA) has said he is ready to sever lucrative business relations with China if Peng is not held accountable and his sexual exploitation allegations are not investigated.
Novak Djokovic has said he supports the WTA threat.
"I hope they are found and they are healthy and all is well, at least the worst can be avoided. I as an organization and as its president have stated Full support, "said Djokovic, a 20-time Grand Slam champion.
Serena Williams and Naomi Osaka also expressed their concerns about one of China's greatest players ever.
Liz Throsell, a spokeswoman for the UN Office for the Coordination of Humanitarian Affairs, told reporters in Geneva that "it would be important to find evidence of whereabouts and whereabouts."
"According to available information, Peng, the former world number one doubles, has not been heard from publicly since he alleged on social media that he had been sexually abused.
"We are calling for a full and transparent investigation into this allegation of sexual harassment."