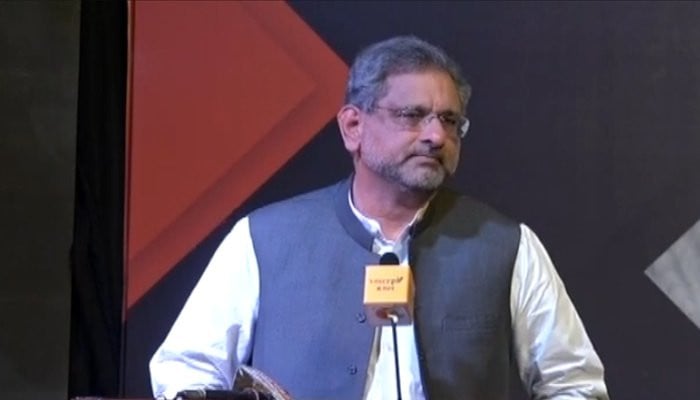 LAHORE: Former Prime Minister Shahid Khaqan Abbasi on Sunday said that the National Accountability Bureau (NAB) had succeeded in convicting only one important politician, citing former Prime Minister Nawaz Sharif, as he had criticized the caretaker body of accountability. Targeted.
Addressing the Asma Jahangir Conference in Lahore, the PML-N leader asked, "To whom does NAB apply? Politicians who are called corrupt in the media, who are tried in the media.
He said that NAB has been working for 21 years, only one "important politician was convicted in NAB courts".
Abbasi asked the legal community whether the two cases in which Nawaz had been convicted could be cited as a legal precedent anywhere in the world.
He also asked the NAB chairman to come forward and state how much money he had received from politicians.
'NAB is a tool Crates uses to change loyalties'
Abbasi called the NAB a "tool" through which "cleptocrats change allegiances and save themselves."
"Where are all the cryptocurrencies? Where are the people who made money? They sit in every government formed in Pakistan," he said.
He said that I am for accountability, if you want accountability then NAB is not accountability, NAB is whatever it is, it is political engineering, it is manipulating politics, it should punish people without punishing them. Is.
He added that the NAB was about "violence" – not about an individual, or a group of individuals, or even a political party. "The people who are paying the price today are the people of Pakistan," he explained.
Earlier, in his opening remarks, Abbasi said that the question of accountability or victimization is something that is much debated "but the reality of the situation is not yet clear".
"It's still unclear because we deliberately cover up the facts. The laws are being misused," he said. "Only a few people stand up, and the whole country suffers."
NAB's objective 'very clear'
Abbasi said that although he did not want his speech to be a "personal statement", he stood in the accountability courts for 12 years and spent three years in prison. He said he did not regret what he had said or done, but two questions remained: what is the purpose of accountability and what has accountability brought to the country.
Responding to both, he said the motive was "very clear". He said that ever since Pakistan came into existence, there has always been some form of accountability law which has been changing only in name over the years.
"There is consistency in all these laws – they do not apply to those who made them."
He said that the people responsible for enforcing these laws are also separate from him. This is the reality of NAB today.
NAB law is against every principle of justice

The former prime minister termed the NAB law as a denial of every basic principle of justice. "The law says, 'I find you guilty, now prove your innocence.'
"Anything can be written in the charge sheet," he said. Giving his example, he said that there is a 34-page case against him, while the NAB reference is 19 pages long. "How does that happen? What are we doing? Where are we going?"
"According to the law, it is necessary to keep records for seven years, but you have been trying me for 35 years," Abbasi said.
He said the accused should also present his 35-year record. "I definitely can't," he added.
Accountability through tax laws
The former prime minister said that the accountability of politicians is very simple, the whole world does it and there is no need for special laws for this, it is done through tax laws.
He said that those who impose taxes on the people of Pakistan should answer for their taxes and they should answer for their lifestyle.
He said that if the leaders of the country are earning then they should pay taxes. "If MPs walk out in a car worth Rs 30 million or Rs 60 million, and go home with Rs 50 million and have a monthly electricity bill of Rs 200,000 and they do not pay any taxes, then it is up to you. What does that mean? "
"He is a corrupt politician. Why don't we follow him?" He asked.
Abbasi said that this process should start with the President, then the Prime Minister, then the Leader of the Opposition and so on.
He said holding tax leaders accountable for their income through tax laws was a way to hold them accountable, adding that anyone who did not pay taxes was "committing a crime against the country".
The PML-N leader said that most people think that taxes are "optional".
He spoke in support of the US Alliance, but said that maintaining some independence was important for many.
Abbasi also remarked that despite being prime minister, what he had earned over the years was less than what he had to pay to defense lawyers. "I have spent 34 years in politics. Whatever the government of Pakistan has given me, either as a salary or whatever, I think I have paid the country's lawyers at least 10 times to defend myself in NAB cases. What is it? Is it fair? " He asked.
NAB is ahead of other countries' 'big' Pakistan.
The PML-N leader, citing some of the figures he had drawn up to show the negative impact of the NAB in previous years, said that when it was formed in 2000, Pakistan's per capita income It was 57 576, which has now risen to 90 1190. "Bangladesh was at $ 358 and is now at 0 2,097 while India has risen from $ 443 to $ 1,900."
"So who lost and who won?" […] And a big part of that is the NAB. "
Consensus Amendments to NAB Law
He questioned how the NAB could apply to a person who has never had any control over public money.
Abbasi said changes had been made to the NAB law, "which can only be amended by consensus."
He said that there are many laws including election laws which should be made by consensus.
He lamented how four hours later a package of amendments was tabled in the National Assembly and handed over to the government in which the Treasury benches asked for "NRO (concession under National Reconciliation Ordinance)". Delivered to the opposition.
The human side
Abbasi said the humanitarian aspect of those being investigated by the NAB should also be considered. "Does anyone care what happens to the people the NAB has accused? Does anyone care about their families?"
He asked if anyone knew that such people could not "run their own accounts, run their own business, take out bank loans".
He said that a great human price is being paid here.
'NAB tool to turn people into turncoats'
The PML-N leader said that a public figure is one who is held accountable "every five years at the ballot box".
"Do you want to accuse me? Install cameras in interrogation rooms and court rooms, show the people of Pakistan, this is my constituency, show them if I am corrupt, accuse me in front of them, not in closed courts" "Where prosecutors don't matter, where laws don't matter," he said.
Abbasi said that when one goes to the NAB court, he knows that he will be "convicted", regardless of the case.
"We still deviate because we believe in what we do," the former prime minister said.
"We believe that this country cannot move forward without political leadership. Turncoats, hypocrites, do not create nations that sell their loyalties.
"And NAB is a tool to turn people into turncoats and sell their lives. That is the reality of NAB," he concluded.