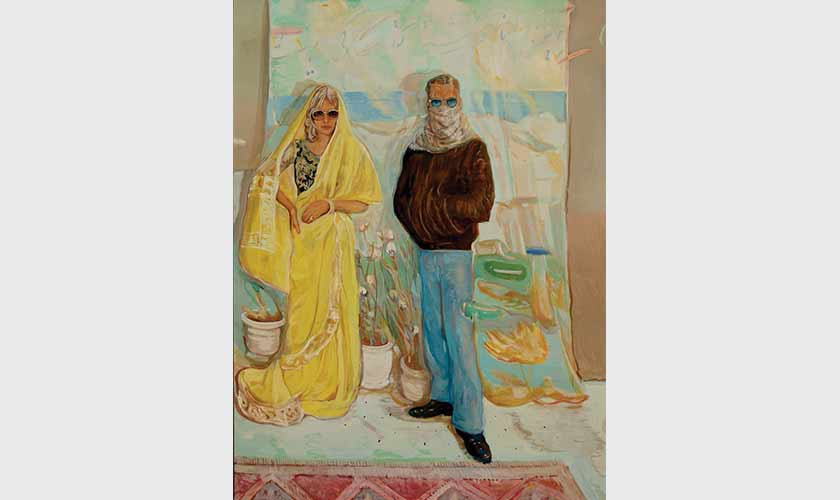 IIn order for art to have any kind of resonance in today's world, as it is with the increasingly restless and superficial type of human expression and interaction, it must find ways to slow down the meaning. Art prevents the rapid flow of information between subjects and objects by blocking its most intriguing interface which we expect instant gratification or forcing us to suspend our understanding of what we are seeing Finds innovative ways to engage with what we do. do not understand
All over Imagination Or at Imagination String Gallery, Islamabad, curator Zahra Khan has found ways to permanently welcome, and even explored, those silly moments when the circuits of expression give way to understanding, this delay Open in meaning that gives us time to think. The four artists in the show have created images, objects that are often astonishing and mysterious as a result of which they provoke a physical reaction but also suspend the intellectual effort to reduce the meaning. Indicates the overlapping and coherence of existence, existence, seeing and feeling between artists and their experiences, presentation and representation methods. Art, as practiced by all four of these artists, explores and explores this fascinating nexus, and forces us to think.
Suleiman Khilji's paintings have great sophistication, economy and density of brush strokes. Each stroke is significant and acts as an exclamation mark. The problem, as I see it, is not so much nature as it is human nature. Nature, as an observable general distinction, is useful as an aid in communication. For the artist, however, the focus is definitely on human nature and human values ​​- the values ​​that arise from our existence as social creatures.
Artists should include themselves in those who help bring clarity and purpose into the mess of everyday life, turning small things into important ones. The basic ability of an artist, even the primary responsibility, is to create images. To understand human nature, it is necessary to know other people. It is a shock to know that you need to know yourself as much as you want others to know you.
It is one of the few experiences that requires discipline and detachment.
Statistics in the Floating Landscape Offers a selection of some of the artist's recent works. A deviation that suggests a deviation and re-emergence from standards or principles reflects the artist's philosophy of creating newness in one's expression and taking risks in contexts clinging to tradition. Selected works highlight Khilji's ongoing music, as well as his visual language differences and his attempts to deviate from traditional principles to which he felt limited. These works give rise to the artist's tumultuous and serious quest for civic responsibility for his present time and place, demonstrating his unwavering desire to overcome the path of loneliness and the inner and outer world around him. Do
The portraits depicted by Akif Suri appear to be inspired by 16th-century elliptical portraits – like any mirror that reflects the inner vision of the painting, and consequently, Suri's work. Exploring the Indian historical and cultural environment.
The series suggests engagement with Indian cultural traditions. Yet this identity is exactly what is questioned and explored here, and in all Suri's works in general, hence the dress-up charred. This reference point is treated with humility instead of sincerity instead of respect.
Although the idea of ​​fiction can be said to resonate throughout Suri's art, it is neither a form of grand fiction nor a disposable pulp fiction. Portraits seem to mock the idea of ​​cultural authenticity – profiles reminiscent of the Victorian home art of Sylhet Portraits. They also bear some resemblance to Suri's earlier interventions. I Lord i And Lord IIHe creates a sense of mystery and drama through portraits in his profile.
Myths in the sense that portraits give birth to different personalities reinforce the practice of Suri.
He deals with artistic authenticity and modernity in his work. For him, integrating cultural identity with modern artistic practice is the path to artistic excellence.
For Irfan Hassan, the content of a work of art must be found in the aesthetic experience of his forms and in the process of self-painting. Hassan discusses ways of looking at contemporary culture in the context of pictorial art and spectator history. Working with Medium gadrangHe refuses to start photography, but insists that accidents – sometimes in reading, sometimes in life – open a place where he can start his work. Reflecting on his artistic engagements, he describes how his work relates to the conventions associated with painting, deviates from them, and finally incorporates and refers to the pictorial traditions associated with modernity, whereas small art in general. Draws related techniques. Describing his work as a combination of images, pointing to the inevitable link between the Renaissance and the Orientalism, Hassan insisted that viewers should avoid prematurely deciding how the real world would unfold. And what it should look like in a painting.
Dark, sometimes dangerous, Dante and Virgil in Hell (after William Adolf Boguero), Presents distorted facts with imposed danger signs. Symbols that have long been used by artists, such as the Virgin Mary, appear. I With Madonna Child and St. John – The search for a more focused, ugly vision provides a distorted portrayal of the artist's personality, reflecting the successes and failures of the inner workings of the imagination. Presented as a sequence, Hassan's photographs resemble the cinematic storyboards or cells of a graphic novel.
Over the past few years, Noor Ali Chagani has received critical acclaim for a series of major projects across the country, each of which is largely ambitious, and has been realized through engagement with him. This is what they call the 'found process', which often occurs in public places. White cubes of modern art. Chagani points out flaws hidden within these pre-existing systems of civic life, through which he introduces 'defects' that, if only temporarily disrupt the status quo, create such interruptions and installations. There are otherwise hidden structures and operations that come to the fore. The works presented in this show remain in a more private and intimate register, as is acknowledged in their language in the titles of the cheeks.
The new body of work reviews the citizen of Chagani. epidermis, A collection of weighted and realistic replicas of barriers and retaining columns, their hard-worked repainted asphalt surfaces that contain all the signs of daily wear and tear, from cracks and faded graffiti to skid marks and To oil stains.
Chagani's touch 'sculptures' create a fluent experience of form, language and thought, opening up a transcendental state of consciousness that deepens the capacity for self-reflection and knowledge. The ability to self-transform in the collective body contributes to the boundlessness of a progressive society of infinite speed.
Pathos, the hard work of his subjects, the always mysterious faces, and the solid camouflage in this show are all built within the boundaries that make them even more relevant as they question their arrival, their birth, their birth. They stare at us for help. Condition. Traumatic readings of the times when much is possible; It tends to shrink in the hands of newborns and those who take advantage of fools. Leaves plenty of room for reflection – where are we? Together with these ideas about the modern age, the four artists create dialogues, visual traps to understand this awesome climax, which we call home – a place that suffers from the loss of love and its glory, to be polite. Is. These four artists are deep witnesses of this who are staring at the underworld while the underworld is staring at them.
---
The author is an art critic based in Islamabad.