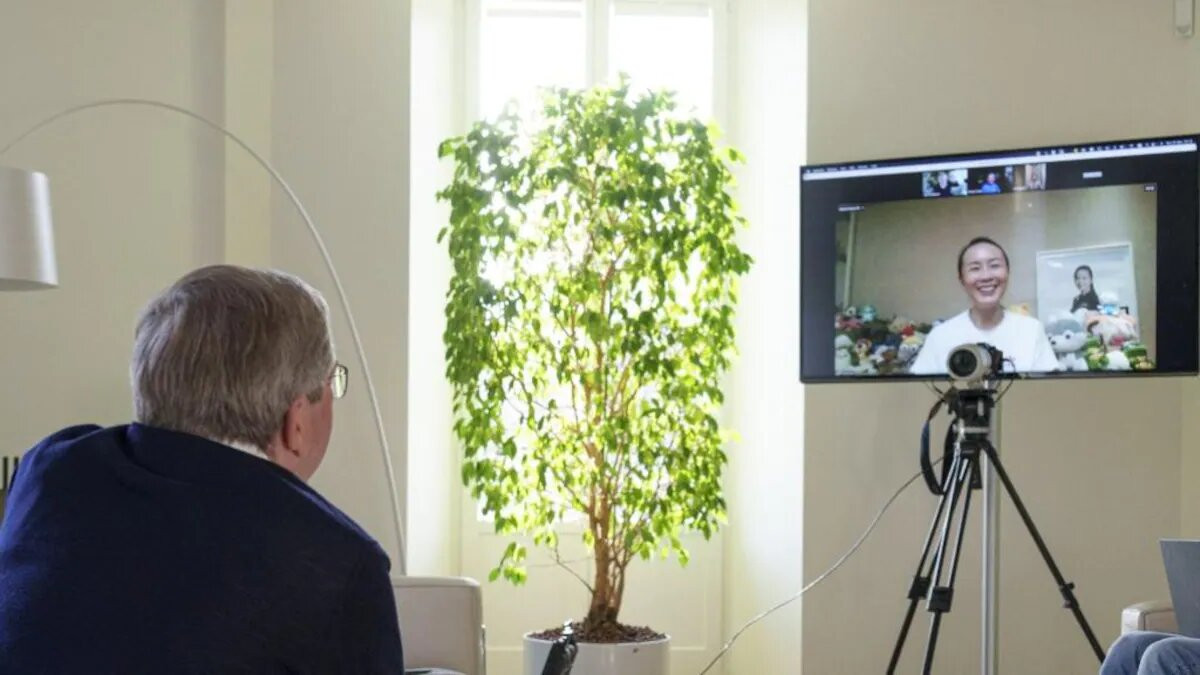 Geneva:

Chinese tennis star Peng Shuai said she was safe and sound during a video call with the head of the International Olympic Committee on Sunday, the organization said. In the midst of anxiety.
At the beginning of a 30-minute call with IOC President Thomas Bach, "Peng Shui thanked the IOC for its concern for its well-being," the organization said in a statement.
"She is safe and sound. She lives at her home in Beijing, but would like to respect her privacy at this time," she said.
"That's why she prefers to spend her time with friends and family at the moment. Nevertheless, she will continue to play tennis. She loves the sport very much."
Earlier Sunday, Peng was spotted participating in the Beijing Tennis Tournament, in official photos of the event, his first public appearance since accusing former Deputy Prime Minister Zhang Gawli, and calling them Chinese. Was cleared from the Internet.
The 35-year-old two-time Grand Slam doubles champion alleged earlier this month that Gawley, now in his 70s, forced him to have sex during a long-running relationship.
Following the global outcry, including tennis superstars and UN, Chinese state media correspondents have released a wave of footage showing that everything is fine with Peng.
A video of the Fla Kids Junior Tennis Challenger Finals event, tweeted by Global Times editor Hu Xijin, shows Peng standing in the stadium among a group of guests whose names are announced to applause. ۔
A Global Times reporter has tweeted another video showing Peng signing the children's autographs, which appear in the same stadium before taking pictures with them.
Ho posted two more videos on Saturday, the first showing Peng walking into a restaurant wearing a coat, knitted hat and face mask, and the second showing eating with people sitting at Peng's table without a mask. Gossiping
AFP could not confirm the authenticity of the videos.
Ho tweeted in English that the second video showed "Peng Shui having dinner at a restaurant with her coach and friends. The video clearly shows her in Beijing on Saturday. Has been shot. "
Sounds like gossip. In the footage, Peng looks relaxed, apparently taken with a mobile phone, but his occupants find it difficult to emphasize history in somewhat derogatory comments.
Peng's claims against Zhang were the first time that China's #MeToo movement has touched the top positions of the ruling Communist Party.
They were quickly removed from Weibo platforms such as Twitter, and security concerns have increased since then.
The Women's Tennis Association has threatened to end its lucrative deal with China unless it receives information about Peng's safety.
Regarding the restaurant's videos, WTA boss Steve Simon said he was pleased to see the photos but "it's not clear if he is free and able to make decisions and make decisions on his own, without coercion or Of external interference ".
"This video alone is not enough," Simon said in a statement.
"I was clear about what was going to happen and our relationship with China is at a crossroads."
A WTA spokesman later told AFP that pictures of the Beijing tournament on Sunday had not yet allayed his concerns.
Emma Tarot, head of the IOC Athletes Commission, nevertheless said she was relieved after Sunday's video call, in which she took part.
"I am relieved to see that Peng Shuai is recovering, which was our main concern," Terhu said in an IOC statement.
"She seemed calm. I offered her my support and offered to be in touch with her at any time for her convenience, which she clearly appreciated."
The growing course of voices in the sports world and beyond is demanding answers about Peng's situation.
A spokesman for US President Joe Biden said his administration wanted China to provide "independent, credible evidence" of its whereabouts.
The British Foreign Office also said it was "extremely concerned" and urged China to release credible evidence, while the French Foreign Minister said he would speak freely to clarify his position. Should be allowed.
The United Nations has called for a full and transparent investigation into Peng's claims.
Some of the biggest names in tennis have talked about this case, including Serena Williams, Novak Djokovic, Roger Federer and Naomi Osaka.
Peng represented China at the Beijing, London and Rio de Janeiro Olympics and won a gold medal for China at the 2010 Asian Games.
He is a former Wimbledon and French Open doubles champion.