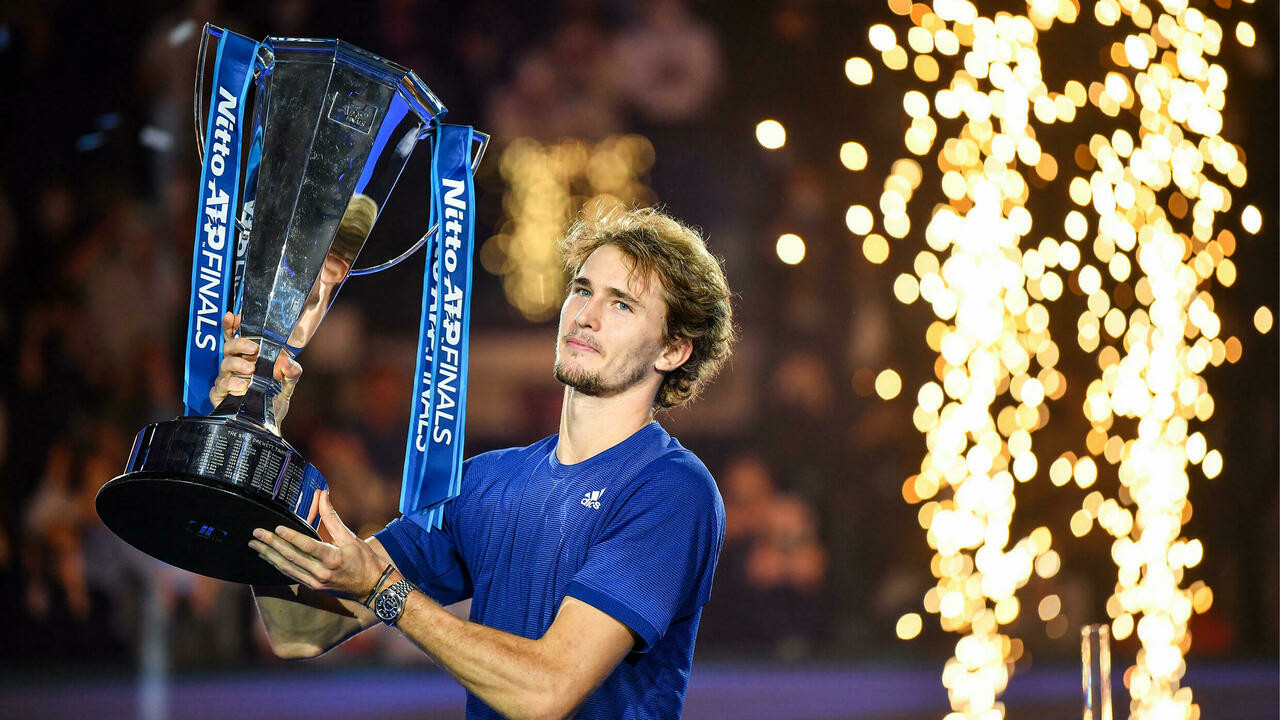 Turin:

Alexander Zverev clinched his second ATP Finals title by beating world number two Daniel Medvedev 6-4, 6-4 in the final in Tour on Sunday.
In Tokyo, Olympic singles gold medalist Zverev won the top six trophies of his tour of the season, defeating defending champion Medvedev five times in a row.
Germany's third seed broke once in each set as they edged out US Open winner Medvedev in 75 minutes to add to the season's final crown they had won in 2018.
"It was great. I won the ATP Finals against someone I had lost five times in a row so I had to play one of my best matches," Zverev said.
"I'm glad I did and I'm ready to go on vacation with this win."
Zverev will not take part in the Davis Cup finals in Madrid, Turin and Innsbruck from November 25 to December 5.
"There's no better way to end the season than to win here, so obviously I'm incredibly happy," he said.
"It's very special, I'm just so excited and so happy."
An event this year in which both Roger Federer and Rafael Nadal were absent, the ATP Finals proved to be a breakout stage for a new generation of tennis in which the Grand Slams are still beyond their reach.
It was also the tournament's first final since moving out of London, involving two players 25 years of age or younger since 2005.
In Saturday's semifinals, top-ranked Novak Djokovic's winner Zuriev broke the 2-1 lead in the first set to take the first blow against Medvedev.
The Russian saved another break point in the fifth game to avoid further damage, but Xavier barely heard Medvedev, winning 20 of 25 points in the service of carrying the opener.
Zverev broke again at the start of the second set and did not offer a single break point and sealed the victory to avenge his defeat in the round robin to Medvedev.
ATP's best 59th win of the season made Zewar the fourth player in tournament history to win the semi-finals and finals over the top two ranked players, and the first player since Andre Agassi in 1990.
Zverev blocked Djokovic's bid to face Federer for the record sixth ATP Finals title. It also prevented Medvedev from becoming the first player to retain the trophy since Djokovic won it four times in a row between 2012 and 2015.
"It's been a great season. It's not easy to get to the Masters final and for myself, I was really happy to be here," Medvedev said.
"Hopefully I'm going to be a part of many of these tournaments and try to win one more time."
This was the third meeting in less than two weeks for Zverev and Medvedev, who beat Germany in the semifinals of the Paris Masters earlier this month.
Zverev turned the tables on Medvedev for the 19th title of his career, but the 24-year-old is still looking for a spectacular Grand Slam victory after winning the Dominic Theme at the 2020 US Open.
"I have been successful at every level, there is only one thing missing, so I hope I can do it next year," Zverev said.
Medvedev, who smashed Djokovic's dreams of a calendar grand slam in New York, believes Zverev could take the next step.
Medvedev said there are many great players who do not have a Grand Slam title.
"You never know where your career is going. Some players start playing badly, some get injured, some win 20 Grand Slams.
"Sasha (Xavier) is a great player who has the ability to beat anyone, so he can definitely win a Grand Slam, but he is not alone and it gets difficult here.
"Is he capable? Yes. Is he going to do that? We never know."