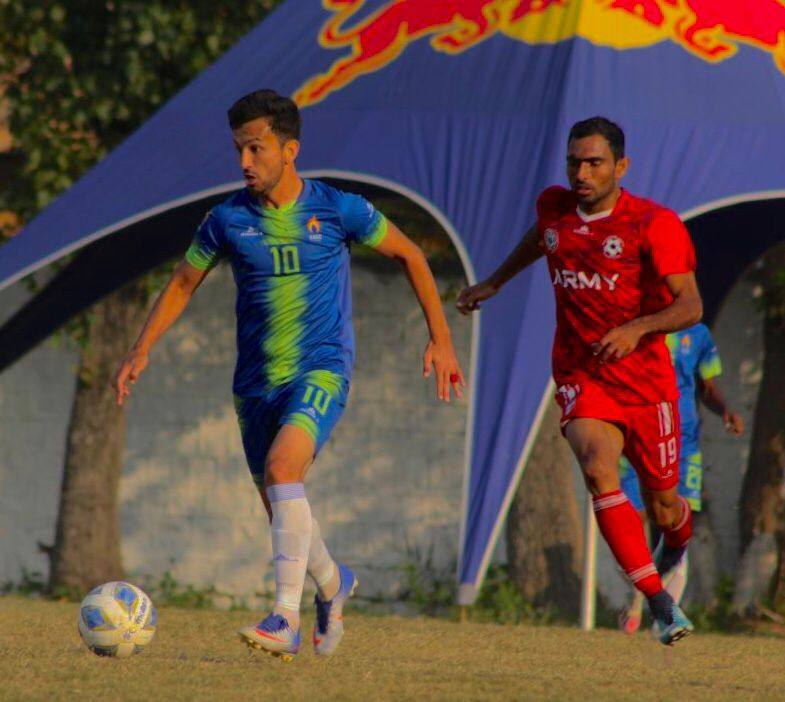 Karachi:

From memorizing the Qur'an in Pishin (learning from the heart) to being one of Pakistan's key midfielders, footballer Saadullah's journey has been a difficult one, and the way football is treated in the country I am demanding justice.
Saadullah is a role model for many people, mostly representing the millions of children who have studied and studied in madrassas and who are looking for a sport to further their lives.
When the Pakistan Football Federation (PFF) is run by greedy officials who do not prioritize the game and neither the players nor the people who are involved in the game for their livelihood, their struggle is in vain.
"What is the way when PFF is banned again? What is our fault in this? Why is there silence?" Saadullah asks. He told the Express Tribune that he wanted to see the light at the end of the tunnel, but that was the current situation in the PFF, which was losing the hopes of many players.
"Now we have been banned for the second time and it seems that there is no way out. Successfully sent, that's awesome.
My question is why the authorities and the government are wasting our time and youth? Why are footballers being punished for being unprofessional by the authorities, "said Saadullah, who recently completed a master's degree in international relations.
Broken dreams
The 27-year-old is part of a wave of Pakistani football that has seen youngsters growing up in the country eventually spread their wings to fly abroad and play in clubs. Saadullah's journey to become a star playmaker in the country is nothing short of a miracle, but his heart yearns for stability.
Saadullah plays for the Sui Southern Gas Company (SSGC) with Pakistan national team captain Saddam Hussein and other star players. However, he has seen better playing days in Hungary and even in the Maldives, where he spent time in the Maldives Premier League from 2015 to 2017, and made a name for himself there.
I want better system for players in Pakistan. As it is now, I am heartbroken because now we have heard that departmental teams will also close. There is no need for departments in the professional environment of football, but in Pakistan we have no alternative yet. We are still far behind because we do not yet have a professional league setup. Although I am an advocate of professionalism in Pakistan, I am very disappointed with what we have seen so far in my 11 year career as a footballer.
"I'd like the departmental teams to leave, only if we have a professional league, and where the players are busy all year round, not just a few months. The level of our football is not improving even in Pakistan Premier Football League.
"The system needs to be overhauled, which can benefit the players. We will soon see the players working as laborers after the closure of the departments," said one returning from the unfinished Pakistan Premier Football League. Saadullah said, although SSGC was one of the top teams in the second round of the tournament which was happening. Rawalpindi The league has been postponed indefinitely.
He recalled that when he started playing football as a child, he used to run away from home and friends because his father was against his idea of ​​playing football full time.
I remember when I memorized the Qur'an in December 2000, I used to run and play football. My father was against the idea of ​​me playing full time, but I persevered and did not give up. Slowly but surely, when he heard people praising my skill, he allowed me to play. I know there are a lot of kids who play football with that passion, and they shouldn't fail by any means, "said Saadullah, as they look forward to pursuing a degree in physical education.
"My message is that the players do not give up. They need to believe in their abilities and not be discouraged. However, I would like to say that it is their responsibility to serve the government and PFF officials, children, footballers of the country, "said Saadullah, who had earlier obtained his License C Coaching Certificate.
Death penalty for Pakistan football
Saadullah says, "If the situation does not change, it will be the death of football and footballers in Pakistan," while talking about the franchise league in the background of the failure of the PFF.
"We're not playing international football, we're banned, we only have a semi-professional setup locally, we need solutions and answers now, and it's too late."
He pointed out that football had never developed in his hometown. Pishin is still behind. We still don't have grass fields to play football, we only play on rocks, but we have the same passion, our children have, whether they go to school, go to madrassas or on the streets, "said Saadullah. "All I want is for these children and young people to have self-confidence," he said.
The Pakistani team played its last international match despite being friendly in January 2020, their last match being the World Cup qualifier in 2019, while Pakistan reached the semi-finals of the 2018 South Asian Football Federation (SAFF) Championship. Had arrived
In the battle between the officials and the management, these are the players who have suffered the most as Pakistan also dropped out of the 2021 SAFE Championship last month, while the women footballers are out of the Asian Football Confederation event. Gone.