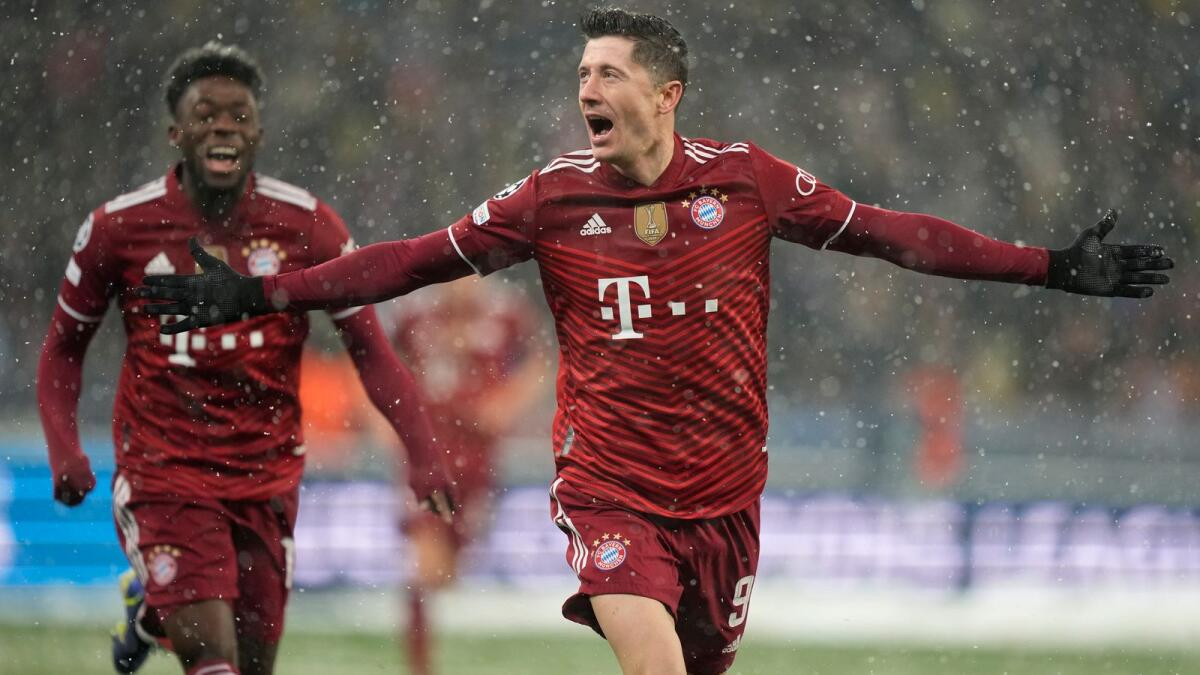 KIEV:

Robert Lewandowski scored with a superb overhead kick in the snow as Bayern Munich won 2-1 in the Champions League at Dynamo Kiev on Tuesday, until five of their players were quarantined.
Lewandowski led Bayern to a great time with a bicycle kick to score for the ninth consecutive Champions League.
Byron has already reached the last 16 as the winner of Group E, with Kingsley Koman doubling the visitors 'lead before Dennis Garmash scored the hosts' first goal of the season.
Bayern captain Manuel Neuer told DAZN: "We're all set to win this season.
"We are happy to have won all our games with 15 points and we are looking for our next match against Barcelona (in two weeks' time in Munich)."
Bayern had quarantine cases involving Joshua Kimich, Serge Gunabri, Jamal Musayala, Eric Maxim Chopo-Mutting and Michael Cousins ​​to code 19.
"Given the circumstances, we performed well, it was a significant victory," Neuer added.
Heavy snowfall and zero temperatures in Kiev did not stop Lewandowski from scoring the best goal of his career.
In the 14th minute, the ball bounced into the sky after hitting Ukrainian defender Ilya Zabarni's boot, and Lewandowski responded quickly with a non-stop, acrobatic effort.
The Polish striker, who is a favorite to win the Ballon d'Or next Monday, scored his 82nd Champions League goal in 101 appearances.
Koman doubled Bayern's lead in the first half with a sharp shot from just before the break.
Kiev pressed down 2-0 in the second half and were rewarded when they attacked from the left before Garmash managed to score a satisfactory goal with 20 minutes left behind.