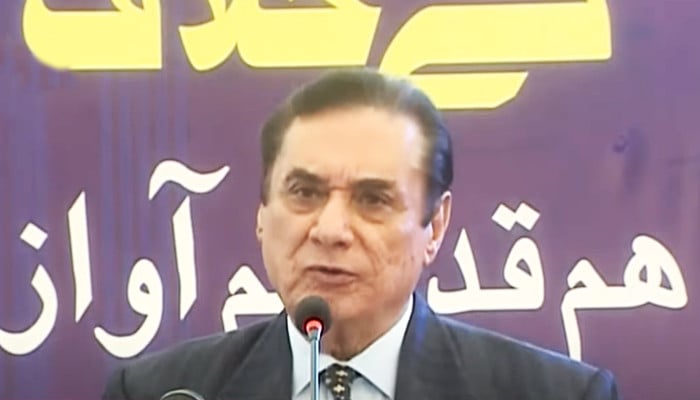 LAHORE: Chairman National Accountability Bureau (NAB) Justice Javed Iqbal has said that critics have raised a "storm in a cup of tea" over the recovery of billions of rupees from an anti-graft watchdog, as he questioned the body's reputation. Criticized the people.
According to a media report, the finance ministry shared last month that it was unaware of the recovery of more than Rs 821 billion – excluding Rs 6.458 billion – which the NAB had claimed to have recovered since its inception. After that, the legislators asked the concerned authorities to investigate the matter and find out the amount.
Addressing a function in Lahore, Justice (Retd) Javed Iqbal said that a storm is being raised in a cup of tea to find out where the recovery of billions of rupees has gone. […] Not all money received is cash that can be deposited in the national treasury.
Chairman NAB said that it is difficult to bring back the looted wealth of Pakistan.
He said the allegations against the NAB would not end the cases, adding that "the bureau is surrounded by controversy as it interrogates powerful people for money laundering of billions of rupees."
The NAB chief dismissed allegations of backing the government and questioned those who accused the ruling party of not following the anti-corruption measures.
"There is no sacred cow for the NAB government," he said, adding that the accountability watchdog has been fully audited three times and no problem has emerged except for a few minor errors.
He said that the value of lands recovered by NAB in Gwadar is in trillions.
"We have a complete account of direct and indirect receipts."
---
More to follow.