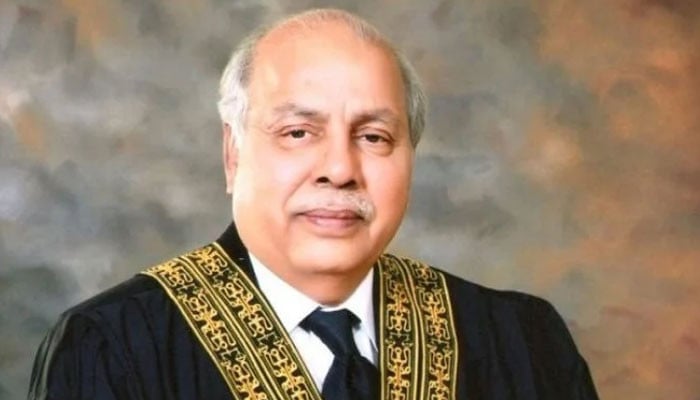 KARACHI: Chief Justice of Pakistan (CJP) Gulzar Ahmed today slammed a senior member of the Board of Revenue (BOR) for presenting a poor and unsatisfactory report on computerization of Sindh land records.
During today's hearing at the Supreme Court Karachi Registry, the Chief Justice remarked that half of Karachi has been captured. Reprimanding the senior member of BOR, the Chief Justice said that we should stop feeding lies and stories.
Justice Gulzar said that you are neither a doctor nor a babu.
He said that more than half of Sindh land was illegally occupied.
On the photos attached in the report submitted by BOR, the angry Justice Gulzar said that this red pop should not be given to anyone else.
Chief Justice Gulzar warned that if you do not comply with court orders, you could be sent to jail for contempt of court.
Justice Ijaz-ul-Ahsan asked a member of the Revenue Board about the encroachments in Hyderabad, Sukkur and Larkana.
Talking about Karachi, Justice Ijaz-ul-Ahsan said that it was a matter of concern as only 9 cases of encroachment related to the city have already been filed.
Chief Justice Gulzar said that there are good and bad people everywhere but unfortunately we have dirty people.
Justice Qazi Amin, who was also part of the bench hearing the case, reminded the senior BOR member that he was a government employee and not a private individual.
Mocking the Revenue Board official, Justice Gulzar said that not a single structure was demolished by the authorities on the ground of encroachment.
He lamented that fake documents were being issued and illegal constructions had been carried out on University Road, Super Highway, areas near the airport and Malir.
Chief Justice Gulzar said that houses have been constructed on government lands in the Malir river area and on land allotted for parks and charitable projects.
He directed the senior member of BOR to relinquish the illegally occupied government lands from the occupiers and submit a report within a month.
"Go, do your job and tell the court how many illegal structures you have demolished. [in future hearings]The Chief Justice directed.
Justice Qazi Amin remarked that this is a two week job.