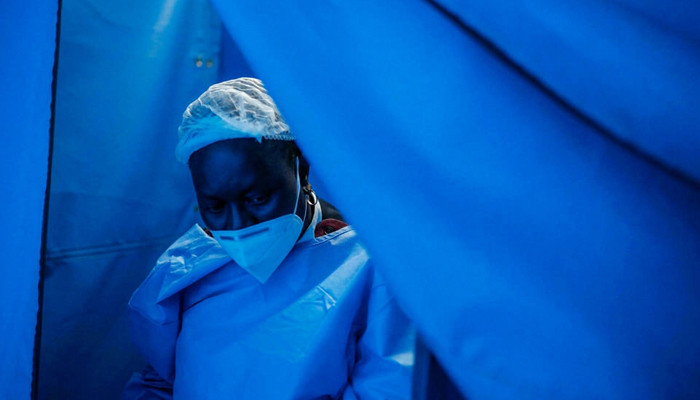 Scientists in South Africa said on Thursday that they had discovered a new type of COVID-19 with a large number of mutations, which is accused of increasing the number of infections.
The number of daily infections in Africa's most affected country has increased tenfold since the beginning of the month.
"Unfortunately, we have discovered a new species that is causing concern in South Africa," expert virologist Tulio de Oliveira told a news conference.
The variety, according to scientific genealogy B.1.1.529, "has a very large number of mutations," he said, adding that he hoped the World Health Organization would give it a Greek name on Friday.
"Unfortunately, this is leading to a recurrence of the infection," he said.
He added that different types of travelers from South Africa have also been identified in Botswana and Hong Kong.
The WHO said it was "closely monitoring" the reported variety and was expected to convene a technical meeting on Friday to determine whether it was a variable of "interest" or "concern". Should be given
The WHO added that "preliminary analysis shows that there are a large number of variations in this type that are needed and will be further studied," the WHO added.
'A big threat'
South African Health Minister Joe Fahla said the type was a cause for "grave concern" and was behind a "rapid" increase in reported cases, making it a "major threat".
The number of daily infections in the country rose to 1,200 on Wednesday from 106 at the beginning of the month.
Prior to the discovery of the new species, authorities had predicted that the fourth wave, which would begin in mid-December, would hit South Africa, which was happy to travel ahead of the festive season.
The government-run National Institute for Communicable Diseases (NICD) said 22 positive cases of B.1.1,529 different types have been recorded in the country since genomic sequencing.
The NICD said that the number of cases and the positive testing rate in the three provinces of the country, including the economic capital of Johannesburg and the capital Pretoria, Gottingen, was "increasing rapidly".
The NICD added that a cluster outbreak had recently been identified at a higher education institution in Pretoria.
Last year, South Africa also detected a beta variant of the virus, although so far the number of infections is from the Delta variant, which was originally found in India.
The country has the highest number of epidemics in Africa at 2.95 million, of which 89,657 are fatal.
– Ten changes –
Scientists say the new B.1.1.529 has at least 10 mutations, two for Delta or three for Beta.
"What gives us some concern (is) that this type not only has increased transmissibility, so it spreads more efficiently, but also protects certain parts of the immune system and our immune system. It may be worth it, "he said.
The coming days and weeks will be crucial in determining the intensity of the variety, Lessells said.
Penny Moore, one of the scientists, said that neutralizing a variable is "complicated by the number of such variables".
"There are a lot of variations in this category that we are not aware of," he added.
The Africa Center for Disease Control and Prevention (Africa CDC) said it would soon meet with South African experts to discuss the issue.
"There are many varieties but some of them have no effect on the speed of the epidemic," CDC Africa chief John Nkengasong told a news conference on Thursday.
Since the slow start of South Africa's vaccination campaign, about 41% of adults have received at least one dose, while 35% have been fully vaccinated. That's 6.6 percent more than the continental average for vaccines.
It aims to vaccinate 70% of its 59 million people.
With a stockpile of 16.5 million shots, South Africa has delayed delivering more ordered food because "we are getting vaccines faster than we use them," said Nicholas Crisp, director of the Ministry of Health.